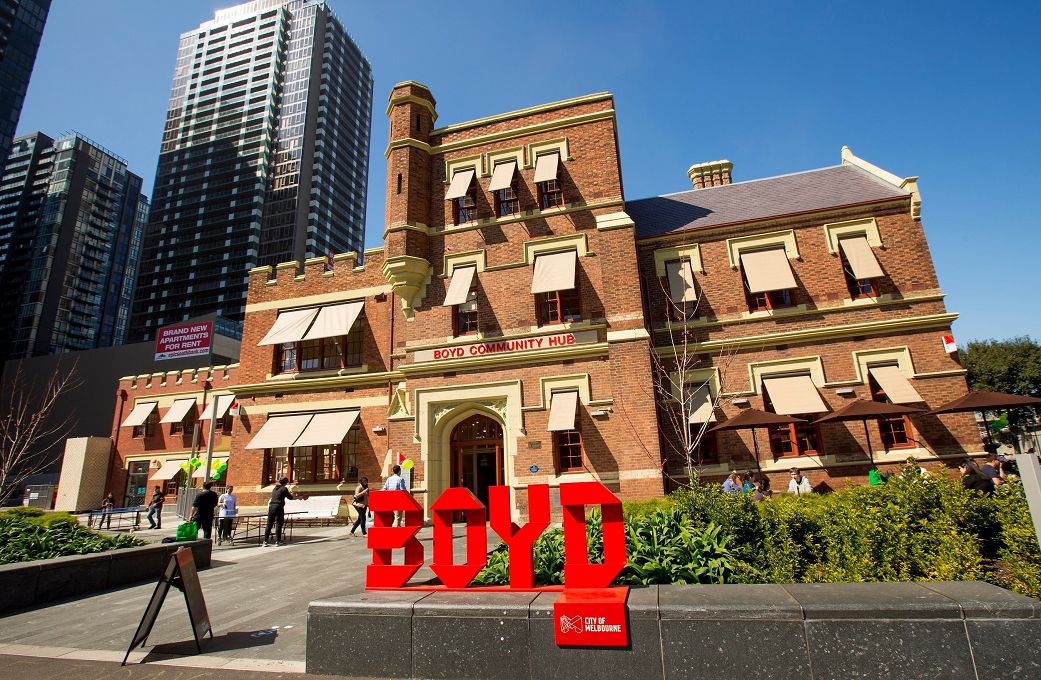 Henry Bastow 1884, WH Bolger 1930
Description
Home to a former college for girls' tuition in the 'domestic realm', this heritage-listed building is now a vibrant community hub for the City of Melbourne. It is regarded as one of the most architecturally significant state school buildings of the 19th century.

This elegant building opened in 1885 as a state school with 510 students. As the years rolled on, wealthy grazier James Hill Boyd bequeathed funds to help establish a domestic science school for girls, and gave the building its name. By the late 1980s it was also used as a TAFE and university campus before it was sold to the City of Melbourne in 2007.

After being redesigned as a community hub and library, it is now a local place to connect, hold events, borrow books, read, access maternal child health services, conduct playgroups, share stories and meet other people. It is also a central hub that helps support and develop a strong Southbank community.

On your visit you will see a thriving, lush community garden and have the opportunity to explore Boyd Park and the beginnings of what will become Boyd Village.
What's On
Take a self-guided tour through Boyd Community Hub and explore Southbank Library, community spaces (dependant on bookings on the day), see Aboriginal artworks and a mural by The Torch artists. Enjoy a stroll in our local community garden and relax in Boyd Park. 

Printed information will be available from our concierge.
Children's Activities
The library features a children's library.
Image: Boyd Community Hub. Photo: Steven Sunter.
Important Details
Time & Date
Saturday 29 July
Open 10am-1pm
ACCESSIBILITY
Fully wheelchair accessible, Accessible bathroom, Elevator access
AGE REQUIREMENTS
All Ages
Location
207 City Road, Southbank 3006