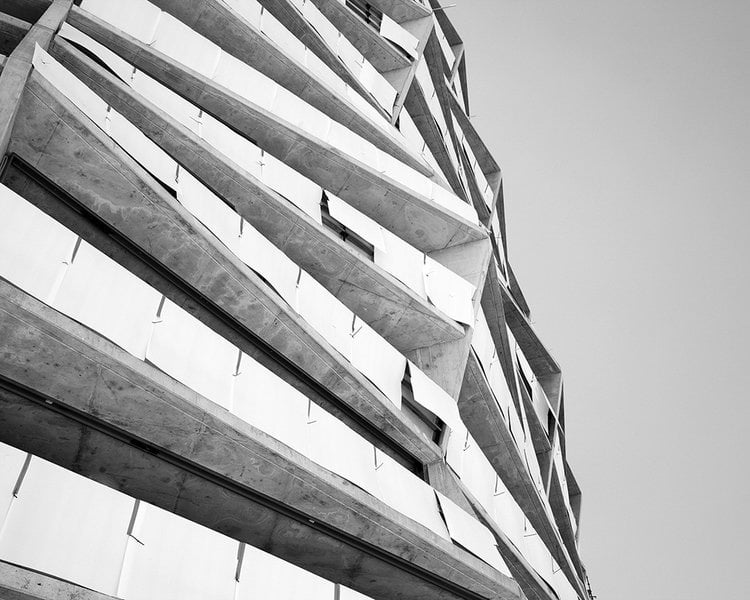 Brutalist Block Party – Hotel Hotel Presents: Brutti ma Buoni
Brutalist Block Party is a May-long program of talks, workshops, lunches, dinners, social situations and a weekly produce market – presented by Assemble Papers and Open House Melbourne.
Hotel Hotel has commissioned two new works. One for the eyes and one for the ears – a short film of Brutalist buildings, co-directed by Coco and Maximilian and U-P, and an accompanying sound piece by Speak Percussion that interprets them aurally. Together they work to observe and orchestrally arrange Brutalism.
What can we see when we really look at these monolithic structures in detail? What do their rough textures, shadows and unadorned geometries reveal? What might these beasts sound like? Cavernous and vast? Drone-like? Repetitive? Hypnotic? Oppressive, optimistic or sublime?
For this event, Hotel Hotel will screen the specially made filmic piece in conjunction with a musical performance, composed in response to the film's visuals. The screening and performance will work together to create a different experience of Brutalism – one that doesn't ask us what we think, one that doesn't challenge what we know, but rather, that asks us to feel Brutalist architecture with our senses.
Hotel Hotel is a hotel. A place of collaborative craftsmanship conceived of and made by artists, makers, designers and fantasists. The 68 rooms are dressed with salvaged and restored 20th century Australian furniture, original artworks stockpiled over ten years, objects collected in nomadic times, and artisan made furnishings. The hotel's public lounge is a series of nested spaces made of woven concrete lintels. The lounge houses a library, two fireplaces and the Monster kitchen and bar. The hotel sits in the environmentally thoughtful, pineapple shaped, Nishi building.
Brutalist Block Party is part of a broader Open House Melbourne program called 'What's the beef with Brutalism?' – a series of screenings, talks and tours that consider people's beef with a Béton brut, explore the social significance of the style, and consider what is the new, new brutalism?
Contributor Link
Important Details
Location
122 Roseneath Street, Clifton Hill, VIC, 3068
Time & Date
Friday 20 May, 6:00pm – 10:00pm