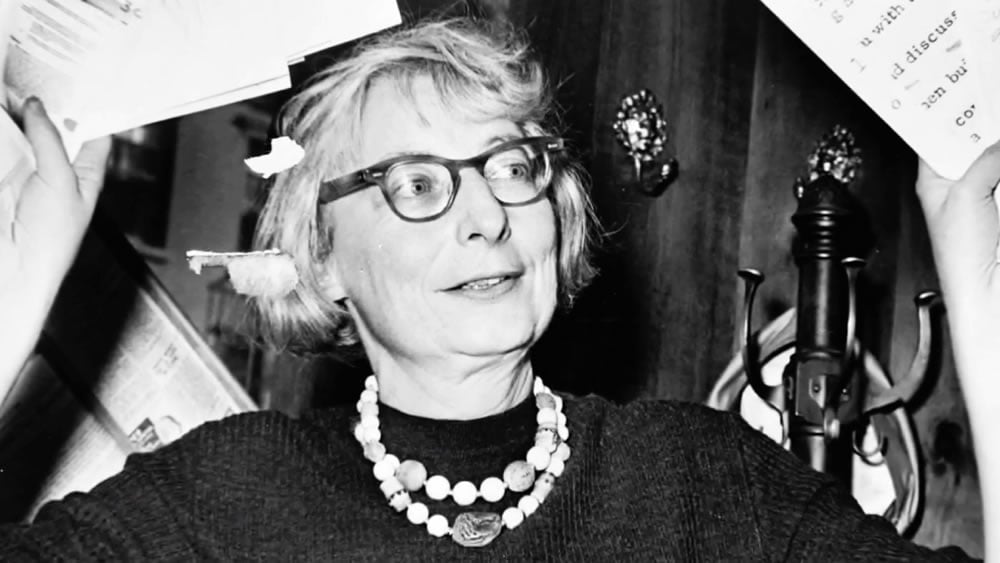 Citizen Jane: Battle for the City
Open House Melbourne in association with ACMI present Citizen Jane: Battle for the City, a new documentary exploring the legacy of celebrated urbanist, Jane Jacobs.
Jane Jacobs (1916-2006) writings championed a fresh, community-based approach to city building. She had no formal training as a planner, and yet her 1961 opus, The Death and Life of Great American Cities, introduced ground-breaking ideas about how cities function, evolve and fail. The impact of Jane Jacobs' observation, activism, and writing has led to a 'planning blueprint' for generations of architects, planners, politicians and activists to practice. (Source: Centre for Living Cities)
Perfectly aligned to Open House Melbourne's mission, Jacob's empowered people to participate in the development of their neighbourhoods and cities. The Citizen Jane screening season forms part of the What Would Jane Do? program, a celebration of Jacob's writing, insight and sheer guts, and use her ideas as a catalyst for conversations about Melbourne's future.
What Would Jane Do? will launch on Saturday 1 July in partnership with ACMI with an exclusive limited season of Citizen Jane: Battle for the City, a new major documentary detailing Jacob's infamous battle with New York City's 'master builder' Robert Moses over his plans to redevelop her home neighbourhood of Greenwich Village and his Lower Manhattan Expressway (LOMEX) project. The Protests against the project, largely organised by Jacobs, culminated in her arrest in 1968 for inciting a crowd and the cancellation of the project.
"With his new documentary, director Matt Tyrnauer (Valentino: The Last Emperor) brings the inspiring story and profound legacy of Jane Jacobs to a range of new audiences. ACMI are proud to be working with Open House Melbourne to celebrate Jane Jacobs. May her dynamism and progressive ideas serve as a catalyst for a series of conversations about the future of our own city," said Kristy Matheson, Senior Film Programmer, ACMI.
Book your tickets, via the ACMI website, here.
Contributor Link
Important Details
Location
ACMI, Federation Square, Melbourne VIC 3000
Time & Date
Saturday 1 July – Thursday 3 August 2017
Booking Info
Tickets required. Bookings to be made via the ACMI website
Booking Link