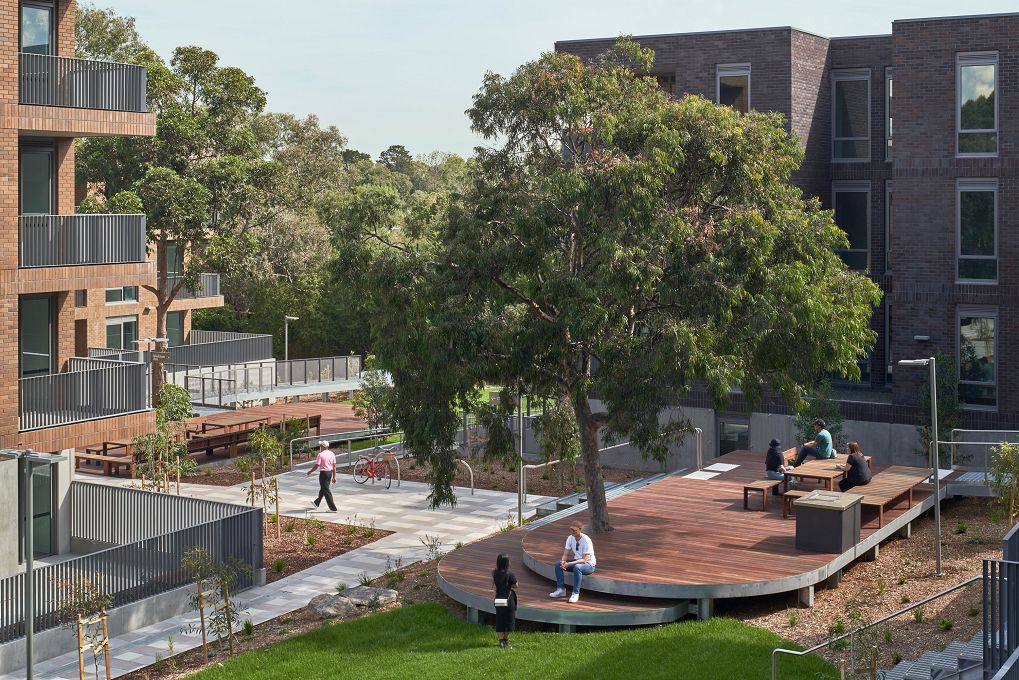 Architectus 2023
Description
Markham Avenue is one of the first projects designed and delivered under the Victorian Government's Big Housing Build, a landmark $5.3 billion investment in social housing across Victoria.
 
With 178 new social and affordable homes spread across five buildings within a welcoming environment, the new precinct's homes are 'tenure blind', meaning they are arranged and designed to be indistinguishable from each other. It's high-quality housing that is universally accessible, equitable, and socially sustainable.

Bordering the Ashburton Community Garden and directly adjacent to Markham Reserve and the Malvern Valley Golf Course, the landscape-led residential community has been planned to carefully balance development and biodiversity protection.

Outward-facing and connected to the wider community, the development also looks inward to support and nurture residents. In addition to communal outdoor spaces such as courtyards set among mature trees, Markham Avenue's buildings feature natural brick and other durable materials designed to complement the landscape and stand the test of time.
What's On
Tours will focus on the architectural and landscape design as well as the drivers for delivering this significant social housing project. Design leads from Architectus will take visitors through building entries and corridors, an apartment and outdoor spaces.
Children's Activities
Playground 150m away for kids to visit before or after the tour.
Images: (1-4) Markham Ave exteriors. Photos: Peter Clarke. (5-6) Markham Ave interiors. Photos: Shannon McGrath.
Important Details
Time & Date
Saturday 29 July + Sunday 30 July
Tours run at 11am + 1pm
Running for 60 minutes in groups of 18
Bookings required
First release tickets: Thursday 6 July, 12pm
Second release tickets: Saturday 8 July, 10am
Meet at 10 Markham Ave, at the top of the drive leading into the development.
Sorry, this event is booked out.
ACCESSIBILITY
Fully wheelchair accessible, Accessible parking nearby, Elevator access
Location
10 Markham Avenue, Ashburton VIC 3147