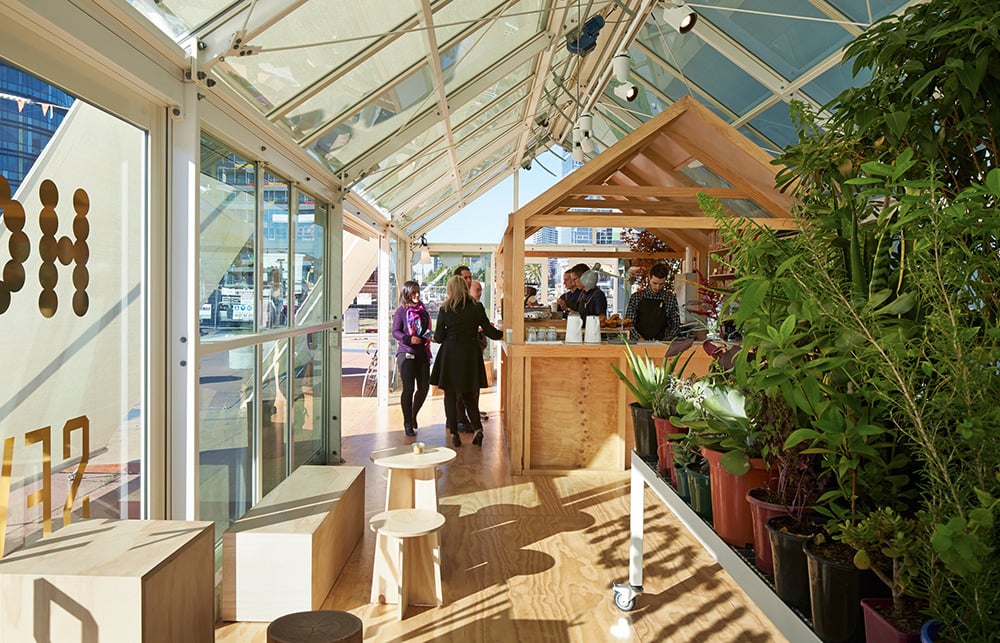 Meet the Young Guns of Melbourne
Presented by Emerging Architects + Graduates Network EmAGN
You may have noticed the addition of a number of new retail, hospitality and civic spaces on the Open House map. These projects illustrate projects that were designed by young architecture and design practices that have been blazing a trail through Melbourne.
All projects featured have been produced by exceptionally young practitioners, or by practices in their seminal, burgeoning beginnings. Some of these now established practices have gone on to do great things, with their contemporaries following a similar path.
We encourage you to stop in at the cafes and bars to refuel during your Open House visit and contemplate the creativity on offer.
Just announced!
There are a couple of times during the Weekend where you can drop in to have a chat with the architect over a breakfast, coffee or something stronger. Make yourself known to the person in the Open House blue scarf, bag and volunteer badge.
Square and Compass with Alex Lake from Therefore Studio
222 Clarendon Street, East Melbourne
Saturday morning on the 30 July, drop in between 9am until 10am
Start your Open House in the East with a coffee from Square and Compass and a chat with Alex Lake from Therefore Studio. If not for the interior fit out that includes terrazzo marble floors and the pale pink palette, start the day with a delicious coffee and consider ordering the ricotta and cacao hotcakes! Square and Compass is just around the corner from the Catholic Theological College, The Menzies Foundation at Clarendon Terrace and Bishopscourt.
Hortus with Folk Architects
131-141 Harbour Esplanade, Docklands VIC
Saturday 30 July, between 9am until 10am
Don't miss the Seven Seeds coffee specials during the Hortus Happy Hour with Folk Architects! Intended to be a temporary site activation, Hortus (latin for garden) now permanently occupies the Harbour Esplanade site with a cafe and garden gallery. Hortus is a great option for coffee if you are making your way to the Port of Melbourne Boat Tours, or you are down in Docklands for AGL, Medibank and NAB.
The Savoy Tavern with Nick Harding from Ha Architecture
677 Bourke Street, Melbourne CBD
Saturday afternoon on 30 July, from 4pm
A great place to unwind at the Spencer Street end of the city after a hectic Open House Saturday. Nick from Ha Architecture will be there from 4pm to 5pm to field any questions you may have about the site. Originally designed and built by the Carlton and United Brewery in 1972 to be a drinking 'barn' catering to a 'rough west end', The Savoy Tavern has been carefully refurbished to balance the 70's with a more modern, comfortable aesthetic. The Savoy is just around the corner from Substation J, City of Melbourne Arts and Heritage Collection, the Supreme Court of Victoria.
Industry Beans with Matt Rawlins from Figureground Architecture
Warehouse 3, 62 Rose Street, Fitzroy
Sunday morning on 31 July, drop in between 9am until 10am
Kick-off Sunday with a coffee and delicious breakfast at Industry Beans. Matt Rawlins from Figureground Architecture will be there to talk you through the design, featuring a double height dining hall and inventive use of economic materials such as pallets and plywood to provide warmth and texture within an industrial setting. Industry Beans is just around from Six Degrees Studio and just down the road from Circus Oz and ClarkeHopkinsClarke.
Hortus by Folk Architects. Photographed by Peter Bennetts
Important Details
Location
Various locations across Open House Melbourne
Time & Date
Saturday 30 and Sunday 31 July 2016