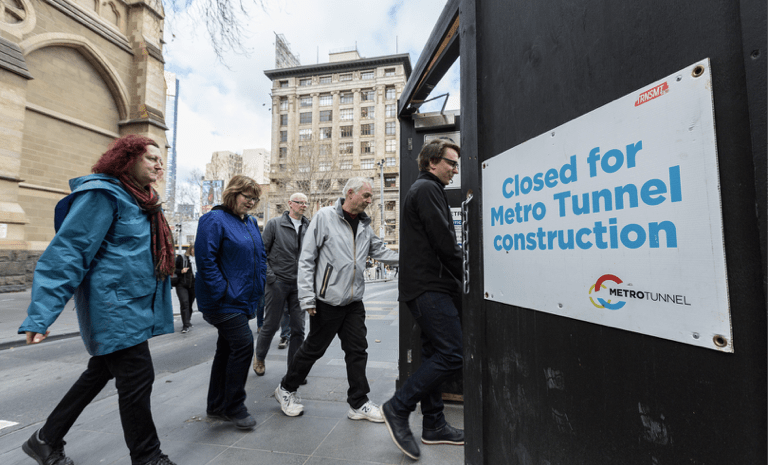 Melbourne Metro Tunnel Walking Tour
Join the Metro Tunnel team on a walking tour along Swanston Street between the sites of the two new underground train stations in the CBD.
Put on your hard hat and zip up your high-visibility vest as you visit key locations including City Square, Franklin Street and A'Beckett Street where construction activities and archaeological investigations are well underway.
See how this mega project is being constructed in a busy city while trams and pedestrians continue to move along Swanston Street.
The project team will guide you above the new tunnel route pointing out some of the challenges of building in an urban environment, including relocating services such as telecommunications, water and electricity, digging shafts 11 storeys deep next to Swanston Street and designing stations that reflect the character of their surroundings whilst enhancing the liveability of our city.
Get a glimpse of what work is taking place in the heart of the Melbourne CBD in preparation for tunnelling in 2019, plus take a peek at how the stations may look and feel.
The Metro Tunnel will transform the way we travel into and around the city. It will deliver five new underground stations for Melbourne – North Melbourne near Arden Street, Parkville, State Library (between La Trobe and Franklin streets), Town Hall (between Collins and Flinders street) and Anzac under St Kilda Road near the Shrine of Remembrance. The two CBD stations will have direct underground pedestrian connections to Melbourne Central and Flinders Street stations respectively.
This is Victoria's biggest ever investment in public transport. The Metro Tunnel will untangle our rail network, creating space for more trains, more often across Melbourne.
This event is presented by the Cross Yarra Partnership and Rail Projects Victoria as part of the Metro Tunnel Creative Program.
PLEASE NOTE: Metro Tunnel will operate a stand-by queue due to the popularity of this event. Please head to the Metro Tunnel Visitors Centre at 125-133 Swanston Street. (Opposite the Melbourne Town Hall.)
Important Details
Time & Date
Saturday 28 + Sunday 29 July 2018
Various locations.
Free – bookings essential: first release Friday 13 July 8.30am until booked out, second release Friday 20 July 8.30 am until booked out.
Bookings: www.universe.com/events/melbourne-metro-tunnel-walking-tour-tickets-melbourne-C23V9F
Booking Info