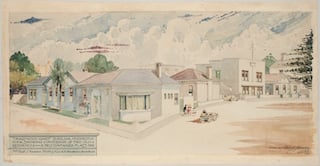 St Kilda Flat Living
"You sleep in the fireplace, dine off your kitchen floor and walk through your bookcase to open your clothespress." 'Flat Living, What Has It Come To?' Daily Telegraph, Thursday 15 February, 1906, p.3.
Whatever the pitfalls, flat living has been popular for a very long time in St Kilda. Early Edwardian flat developments including the Majestic (1912) and the Canterbury (1914) were followed by an inter-war boom where the number of flats in the suburb grew from 880 in 1925 to 4,800 by 1940.
Join David Willis, author of The Majestic, Early Apartment Living in St Kilda published 2015 by St Kilda Press to explore some of the themes of early St Kilda flat development. Identify some significant examples in the suburb and locate them after the talk!
Image: Haddon and Henderson (architects) 1921, 'Charnwood Oaks' St Kilda, perspective view, showing conversion of two old residences into nine self contained flats. State Library of Victoria, H2014.983.
Important Details
Location
St Kilda RSL, 88 Acland St, St Kilda
Time & Date
Saturday 30 July 2016
10.00am