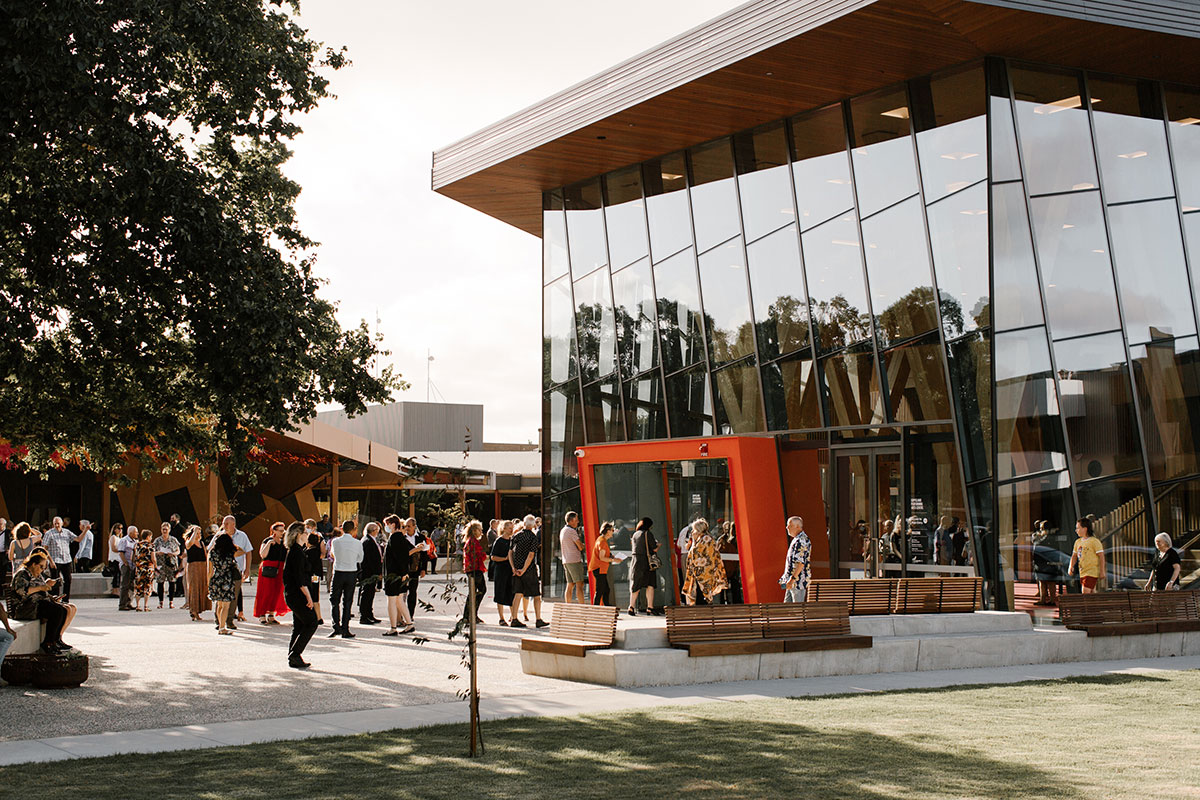 Getting to Gippsland
Posted Tue 22nd Mar 2022 | Isabella Radevski
As part of Melbourne Design Week 2022, a special event will soon sprout up in the heart of the Latrobe Creative Precinct and we can't wait for you to join us!
The brand-new Gippsland Performing Arts Centre in Traralgon (pictured above) will host Open Nature: Gippsland Design Day – an enlivened and free program of talks, tours and tastes.
Keep reading for some handy travel advice plus a curated collection of reading and listening material for your trip to Traralgon!
---
---
Getting to Gippsland – Visiting GPAC, Traralgon
RAIL
In the true spirit of Open Nature, we recommend attendees leave the car behind and take the train to Traralgon. Visit the V/Line website to plan your trip. Please note, there is a temporary timetable in place for all services on the Traralgon line so please check the links below and plan ahead.
From the centrally located Traralgon train station with customer service hub, it's an easy 10-minute walk (800 metres) on flat terrain to GPAC. If you're a visitor to Latrobe City you'll find the Visitor Information Centre conveniently located right there in the GPAC foyer.
For information about bus, car rental and electric vehicle charging stations visit the Latrobe City website. For more information about transport, parking and accessibility at GPAC, see GPAC Visitor Information.
---
---
Getting to Gippsland – A Reading and Listening Guide
A selection of Gippsland-centric content to accompany your travels to and from Traralgon:

Read
1. Gunaikurnai Land and Waters Aboriginal Corporation – Cultural Knowledge:
2. A community, non-profit publication connecting Gippsland through positive story-telling:
3. Local Gippsland non-fiction literature:
Bass Coast Prize for Non-Fiction
4. Gippsland Design Day special guest speaker, Bruce Pascoe:
Listen
5. Listen Back to some of the people, interviews and stories featured on ABC Gippsland
6.  Sonic works curated to artworks from the Latrobe Regional Gallery permanent collection
Look
7.  A curated selection of Gippsland based artists from Latrobe Regional Gallery
8. The benefits of living, working and investing in East Gippsland
---
Open Nature: Gippsland Design Day is presented in collaboration with Gippsland Performing Arts Centre, Latrobe Creative Precinct – Latrobe City Council. Open Nature is part of Melbourne Design Week 2022, an initiative of the Victorian Government, Creative Victoria in collaboration with the NGV.

Images top: [1] Gippsland Performing Arts Centre, 2022. Photography courtesy of Latrobe City. [2] Traralgon Post Office, 2021. Photography courtesy Visit Victoria [3] Gippslandia issue 21, article image. Courtesy of Gippslandia.