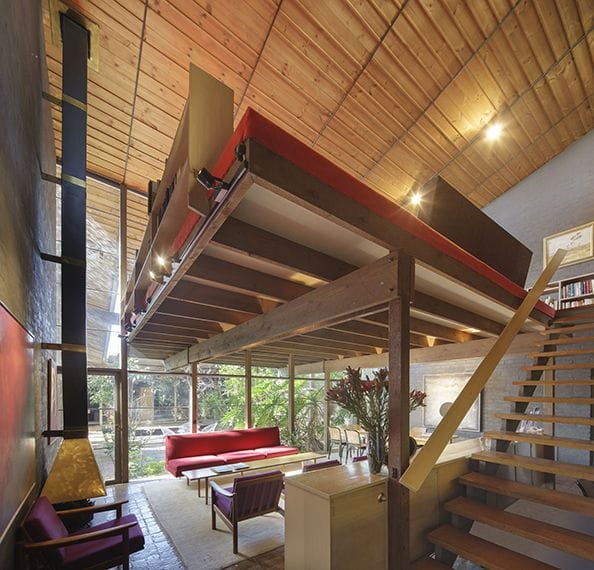 Add to Itinerary
Boyd House II, Walsh Street
Architect: Grounds, Romberg and Boyd – Robin Boyd, 1957-58
Photos: 1 John Gollings, 2 –5 Eve Wilson.
---
VIRTUAL TOUR
This is your opportunity to appreciate, investigate and enjoy Boyd House II / Walsh Street – Robin Boyd's greatest domestic architectural experiment – which continues to influence contemporary architectural thinking. View this mid-century gem in South Yarra to learn about Australia's most influential architect and how the Robin Boyd Foundation carries forth his pioneering legacy to provoke and lead fearless dialogue on Australian architecture and design.
Boyd House II / Walsh Street was designed by Robin Boyd for his family in 1957 and is his best known work. It is an exemplar of modernist Australian architecture. The house remains largely unchanged from the time it was first designed and occupied by the Boyd family – a time capsule to the perennially popular mid-century modernist period. Furnished with pieces designed by Boyd's associates Grant and Mary Featherston, and others, the house provides a unique insight into Melbourne's design leaders of the 50s and 60s.
Boyd used the opportunity to design his own family home to reject domestic convention and contribute a house of programmatic and technical innovation and mastery. Walsh Street is an experimental house, designed to be enjoyed and explored by all who visit, and now the home of the Robin Boyd Foundation.
An invitation from Robin and Patricia Boyd to Walsh Street was one of the most coveted invitations in Melbourne. For members of Melbourne's arts and cultural community it was a special place to meet, discuss and dine.
The house was designed to be enjoyed and experienced, and exists in a near original state, just as it did whilst the Boyd family lived here, right down to the furniture, artwork and books.
Experience the unique aspects of how the house addresses the street, how the front door opens into the main pavilion and draws you into the 'heart' of the home – the courtyard garden, one of the most pleasurable aspects of the house.  Also, its unique, cantilevered roof draws the eye down toward the greenery of the courtyard, providing glimpses through the various levels and zones of the home, towards the children's pavilion and views to the city and mountains beyond. The openness and looseness of the spaces generate a sense of welcoming informality and comfort, which affords a high degree of flexibility for entertaining and the varying degrees of privacy necessary for day-to-day family life.
WATCH
Making of the Walsh Street 3D tour
Important Details
WHAT'S ON
VIRTUAL TOUR
This is a collaboration between the Robin Boyd Foundation Volunteers, Arup and PHORIA. It is the first time that one of Australia's significant houses has been open to the public tour from their home, and the first digital presentation of the work of the Robin Boyd Foundation Collection team.
Take the tour below.