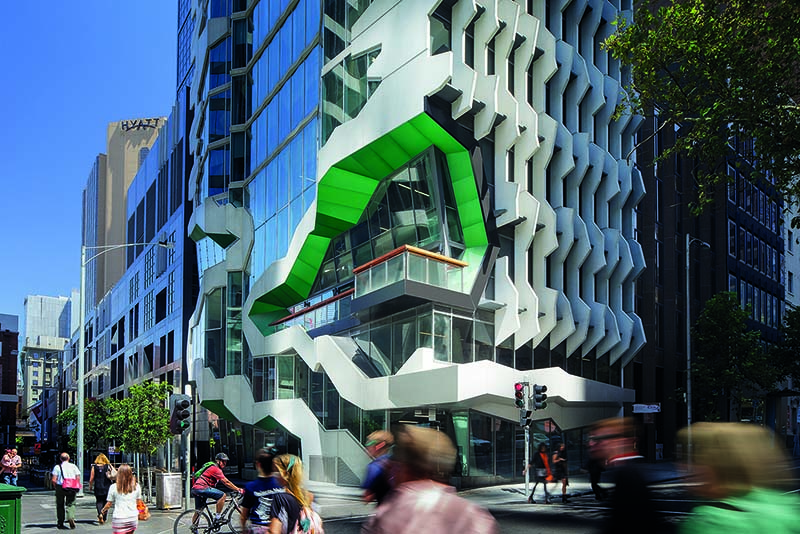 Open House Melbourne Weekend – City of Melbourne & Docklands
Posted Mon 25th Jul 2016 | efront
We don't know how you're going to decide what to see this Weekend. In the City of Melbourne and Docklands precincts there are 50 buildings with open doors. We don't recommend trying to see all of them!
Here are the buildings that are free and open access across the Weekend.
City of Melbourne
41X – 22 storey, 5 star Green Star, home to the Australian Institute of Architects.
Argus Building – Former headquarters of the Argus Newspaper, and finally restored as Melbourne Institute of Technology's new purpose-built CBD campus.
ArtPlay – The only dedicated art studio for children and families in Australia!
Council House 2 – CH2 – A green, susptainable and innovative buulding for council staff.
Limelight Studios and Salvation Army Heritage Centre – Over 400 films were produced at the Limelight Studios until its closure in 1909. Free tours will run every hour with 20 people per tour (not suitable for children under 16).
Melbourne Town Hall and Offices – For over 135 years, Melbourne Town Hall has been at the heart of events that shaped the city's future and celebrated its milestones. You will be able to explore the Council Chamber, Portico Room and balcony, Melbourne Room and Yarra Room.
Myer Mural Hall – Don't miss the opportunity to visit this delightful hidden gem. 10 Napier Waller murals, 3 sparkling chandeliers and a beautiful deco interior.
Russell Place Substation – one of the oldest substations in the city and always very popular. There will be queues.
State Library of Victoria – Explore the La Trobe Reading Room and the soaring galleries above, as well as the stately mezzanined Redmond Barry Reading Room and the historic Queen's Hall.
Scot's Church and Assembly Hall – Decorated Gothic with beautiful stained glass windows and a spire that is 37 metres high (which was, for many years, the highest point in the city).
Koorie Heritage Trust @ Federation Square – The Koorie Heritage Trust is home to an astounding collection of historic and contemporary artworks, objects, photographic archives and oral histories that relate to Victorian Aboriginal cultures and communities.
Gordon Place – Protected by state law and is classified by both the National Trust and the Victorian Heritage Register, this hotel was originally intended to provide family lodging for the respectable poor (working class families).
Folk Architects – Nicholas Building – Award-winning architects studio in the beloved Nicholas building.
East Melbourne Synagogue – Oldest continuously functioning synagogue in Victoria.
German Lutheran Church – Inspired by the Gothic Revival movement and built from buestone, you will be able to visit the nave of the church as well as the church hall.
Old Treasury Building – Regarded as one of the finest 19th century buildings in Australia!
Orica House – Only open on Sunday, Orica House (or ICI House as it was originally known) was one of the first freestanding, fully glazed, curtain wall commercial skyscrapers in Australia.
Parliament House – One of Australia's oldest and most architecturally distinguished public buildings.
Royal Society of Victoria – Visit the Burke and Wills Room, Phillip Law Room, and Hall Gallery downstairs. While upstairs, you will have access to the Von Mueller Room, Cudmore Library and Ellery Theatre.
Tasma Terrace – Designed by architect Charles Webb and now the headquarters of the National Trust.
Hellenic Museum – Former Royal Mint, home to the inaugural MPavilion (designed by Sean Godsell) and showing ONEIROI, a permanent installation by Australian artist Bill Henson.
Royal Historical Society of Victoria – Only open on Saturday, you will be able to view an exhibition about ephemera and the passion that drives the collectors of ephemera. You can also learn about the activities of the Royal Historical Society of Victoria.
Signal – Last surviving signal box of Flinders Street Station and now a creative studio for young people and emerging artists.
Substation J – This is an operating substation with live electrical equipment. Please wear enclosed flat shoes (no heels) and full length clothing. No children under 14 permitted and there is no pram/stroller or wheelchair access. Multiple flights of stairs.
St Peter's Eastern Hill – The oldest Anglican church still on its original site in the city area.
ANZAC House – Visitors will be provided access to the ground floor gallery and the wood panelled Boardroom, as well as the first floor and President's Room.
City of Melbourne Art and Heritage Collection – Built by the City of Melbourne in 1955 as a storage facility for its electricity supply branch, today parts of the building are used to store the City of Melbourne's Art and Heritage Collection.
The Victorian Artists' Society – The whole building will be open to the public, including the five galleries and working studio.
Collins Street Baptist Church – Heritage Victoria describes this as the grandest classical church in Victoria.
Royal Melbourne Regiment Drill Hall – The Royal Melbourne Regiment Drill Hall was built in 1937 to designs prepared by Commonwealth architect, George H. Hallendal, as part of a general improvement in military facilities.
National Tennis Centre – Show off your skills on the indoor court! (Please wear tennis or sports shoes with non-marking soles.)
The Melbourne Athenaeum Theatre and Library – Artist in residence Anne Kucera will demonstrate the skill and techniques required to work within the pop-up design, its mechanisms and book covers!
St Paul's Cathedral – Only open on Saturday, the whole of the main Cathedral building will be open to the public.
Glasshouse – One of the newest venues in Melbourne and built on the site of the original 1956 Olympic swimming stadium.
Docklands

AGL Energy – Please note: open day listed incorrectly in the printed program. AGL Energy will be open Saturday 30 July 10 – 4pm.
Mission to Seafarers – The Mission to Seafarers buildings are unusual for combining two distinct architectural styles: Spanish Mission Revival and Arts and Crafts.
NAB – Another popular building, expect queues. Only open on Saturday. ID required for entry.
Port of Melbourne Boat Tours – Open Boat Melbourne?
Medibank – Is this one of the healthiest workplaces in the world? Come and see for yourself. Only open on Saturday. ID required for entry. Expect queues.