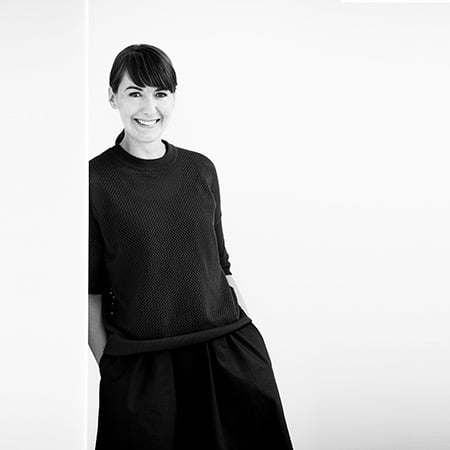 Open Journal: 5 Questions with Emma Telfer
Posted Mon 30th Jan 2017 | efront
Following from Open House Melbourne's most busy year on record, we ask Emma Telfer, the Creative Director a few questions on the program's expansion beyond the open weekend in July, to encompass a broad range of talks, screenings, workshops and tours to engage the community with our built environment throughout the year.
Tell us about how you came to the role of Creative Director at Open House Melbourne and what's changed while you've been at the helm?
I have been involved with Open House since 2010 in a number of different roles: as part of the State of Design Festival Team when Open House was included in the public program, as a board member, as the Marketing Director, and as Creative Director–a role that was created in early 2015.
When my role as Creative Director was formalised, I started to define a considered year-round program that is designed to ignite dialogue about good design and design excellence, about the importance of heritage preservation in rapidly developing cities, and about how built environment and urban planning initiatives and issues influence city culture.
2016 has already seen us present a month-long series of tours, workshops, events and screenings titled What's the beef with Brutalism? in partnership with the Heritage Council of Victoria and Assemble Papers. The program invited people – thousands of people – to consider the idea of valuing architectural diversity in a rapidly developing city.
Next year will mark the first decade of Open House, and throughout 2017 our intention is to celebrate with two additional month-long programs in addition to our July program.
Being a pretty lean not-for-profit, we build our program in collaboration with a number of other organisations who are working in our field. I have been known to joke that we are using our power–our sizeable highly engaged audience–for good when we support others who are advancing the dialogue about design and the built environment.
Open House Melbourne has just exploded in public interest since its launch in 2008, why do you think the Open weekend has such broad appeal?
The Open House Weekend really captures people's imagination. You can see inside buildings and spaces that are not normally open to the public, and not only do you get to see inside, but you are also treated to rich story-telling that brings the buildings to life. It truly is a celebration of the city.
I think another key factor is that Melburnians are becoming more engaged with urban planning, heritage and design decisions that are being made on their behalf. As we hurtle towards doubling our population in the coming decades, our city is changing at a pace that is unsettling people. Open House is a platform that arms people with information about what is happening in the city, and what part they can play in shaping Melbourne's future.
Following from Open House Melbourne's month of programming with the Heritage Council of Victoria and Assemble Papers entitled, 'What's the Beef with Brutalism?' do you feel public sentiment towards Brutalist architecture in Melbourne has improved?
American urbanist Jane Jacobs talks about diversity as being the source of urban vitality. What's the Beef with Brutalism? program was designed to make people consider why we need to value diverse architectural styles and periods as the city rapidly develops. I used Brutalism as the central character because it can be so divisive.
In 1949, the City of Melbourne proposed to demolish the now World Heritage Listed Royal Exhibition Building in Carlton Gardens because they thought it did not represent a modern city. Imagine what our city would look like now if buildings from across the ages were not protected due to the changing tastes at the time? As National Trust Acting CEO Paul Roser recently pointed out to The Age 'the notion of heritage is an evolving one'. What's the beef with Brutalism? aimed to make this idea resonate with people so they can be active participants in the protection of past, present and future buildings of significance.
Locally, there is a ground-swell of activity across a number or organisations who are doing their part in promoting post-war and brutalist buildings as legitimate city heritage. Along with the Open House program, the Footpath Guides recently published Melbourne Mid-Century, a pocket book that tours the city's architecture between 1950-1970, and Melbourne Architours partnered with The National Trust to design Melbourne's Marvellous Modernism walking tour as part of the National Heritage Week.
What is your favourite element of the 2016 program?
This year, we are opening over 140 buildings open across Metropolitan Melbourne, with a big focus on the West. Highlights include the Glen Murcutt designed Australian Islamic Centre in Newport, a number of new residential projects including The Dolls House by BKK and Flinders Lane Apartment by Clare Cousins Architects, and an impressive array of new to the program heritage buildings including Willsmere, the old Kew Asylum, and Jack's Magazine, the old ammunition store down on the banks of the Maribyrnong
I'm especially excited to be working with the Emerging Architects + Graduates Network on Young Guns, a map of retail, hospitality and civic spaces on the Open House map that were designed by young architecture and design practices.
I'm also delighted to be working with the RMIT Design Hub team to program a free public talk that will expand upon the themes in the Occupied Exhibition. While Occupied engages with pressing issues around housing, the exhibition also encompasses ideas of adaptive reuse, environmental ethics, and emerging economies. The talk will feature the Barcelona-based studio MAIO in dialogue with national and local architects.
Where would you like Open House Melbourne to be in 5 and 10 years?
Looking to the future, in 2017 we will celebrate a decade of the evolving face of Melbourne's architecture, design and built environment. Community engagement remains at the heart of what we do, and our ambition is to see 200 significant buildings across Melbourne open in July and a deepening of audience experience across our year-round program.
Expanded and formalised education programs will be a focus for us in the coming years. We aim to emulate the success of our sister organisations Open City London and the Chicago Architecture Foundation by offering a broad range of formal and informal educational opportunities to our visitors.
Chicago Architecture Foundation–who run Open House Chicago– is the world's largest public architecture organisation with over 70 staff. Sure, you could say that is a big leap from where Open House Melbourne is now, but there is no reason that we can't work towards that level of engagement across Melbourne and Australia, positioning Melbourne as the centre for public engagement with urban design and architecture in the Southern Hemisphere.
Keep up with the very busy Open House on Instagram, Facebook and Twitter.