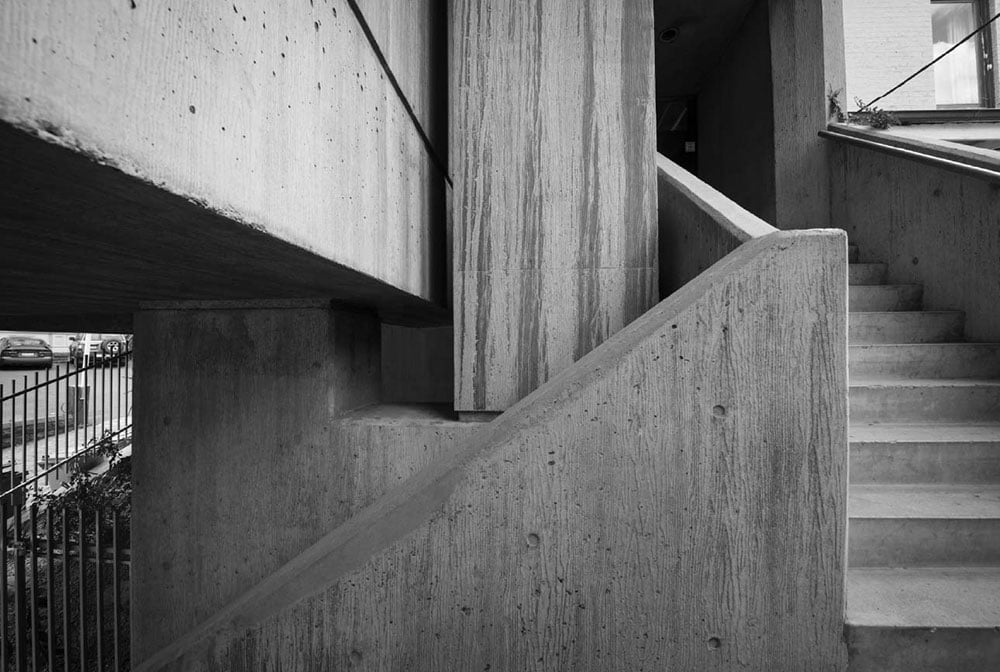 Talking with Graeme Gunn
Posted Tue 20th Dec 2016 | efront
Image credit: Plumbers and Gasfitters Building by Graeme Gunn ˝Hin Lim 2016 | Hin Lim Photography

Interview with architect Graeme Gunn, from the Open House Melbourne 2016 Printed Program.
In May 2016, the Heritage Council of Victoria and Open House Melbourne presented a screening of the 2-part BBC documentary, Brutalism and Bloodymindedness: Concrete Poetry at ACMI. The film was preceded by a Q&A session with Graeme Gunn, whose Plumbers and Gasfitters Union Building, located in Victoria Street in Melbourne, is considered one of Melbourne's most significant Brutalist landmarks. What began as a conversation about Brutalism in Australia soon evolved into a warm and witty reflection on Gunn's celebrated career.
Brutalism is either a loved form of architecture or a despised form of architecture. What is brutalism to Graeme Gunn? Graeme's architecture is an architecture of people and how it fits in to context.
But let's start, Graeme, with why you chose to become an architect.
I grew up in Hamilton, my parents grew up through depression, my mother died quite young and left five boys with their father and no structure of family life. At the age of 22, I left Hamilton and thought I had better do something. I liked playing football, among other things. I ended up coming to Melbourne and got into RMIT, but I had no money. I was a bit older, unlike the other students who were 18, 19. I had enough experience of life to assess people, who were the ones who were going to offer good advice and help me grow up as a person.
When you finished studying, you started working with Robin Boyd. But you only stayed with him for two years. Why leave, when you're working with such an extraordinary talent and mentor?
I was still studying when I started at Grounds, Romberg and Boyd. I began with Fred but we didn't hit it off so I ended up with Robin Boyd, who was a wonderful person to work with. He had no sense of structure, he approached things by thinking: Here's a problem, how do you resolve it? Use as much inventiveness as you can, no patterns of reproduction or stylization. He was also very creative in terms of structure and spatial manoeuvrability.
But that wasn't enough?
Well, it was quite simple. After two years—this was 1961—I was earning 32 pounds a fortnight. And six years before that, in Hamilton, well I'd been earning 32 pounds a fortnight. I needed more money. So I told Robin, and he went away and came back to me a little later and said: I've done something for you. I've secured you a one-pound pay rise. Well, it wasn't enough. So I went out into private practice and did 2 to 3 projects, houses. One was out in Essendon; it was quite distinguished because it had no interaction with the street and was arranged around a courtyard in the manner of a Roman villa. Also Fallen Log House near Doncaster: a long linear house of timber. Then I found I had no money again.
Then you moved onto Merchant Builders?
Well yes, what actually happened was that I went back to university to study anthropology, and it was all very interesting but I was basically told there were no jobs in that, so I began a course in Mandarin and that's where I met David Yencken, who was just back from nine months in Hong Kong. We'd previously met at Grounds, Romberg and Boyd; we had rapport. We had a lot of luncheons and we talked about the lack of potential for people who wanted architect-designed houses: they couldn't afford architect fees. So the idea came for Merchant Builders project housing. The client had land, we built 3 to 4 display houses and the architect fees would be buried in the contract along with surveying fees and the like. You had a 14-week program to site houses with the client and build; it was precise, efficient and visionary. Everyone we worked with, including landscape architect Ellis Stone, they were all high quality and dedicated people, intuitively brilliant. We were all focused on a good result, and it was a lovely period.
So it's the mid-60s, around which time you're approached to build the Plumbers and Gasfitters Union Building, which curiously is about the same time your colleague and contemporary Daryl Jackson was invited to design Harold Holt Swimming Pool. Was it a strange coincidence that you both designed seminal Brutalist Buildings, momentarily after working on residential houses for Merchant Builders?
Well I won't say we had conversations about it. I mean, my life was about being an individual, independent, I wasn't into fraternising with other architects.
But it is interesting that you'd been working together and then you were both invited to do large commissions and you both chose a similar style to pursue, no?
Well there was a team of us out at Elliston Estate in Rosanna. It was an 88-acre site, and there was Charles Duncan, Daryl Jackson and Evan Walker, David McGlashan and Neil Everist. It was a very fulsome period. We knew we'd get the best results through an integration of landscape and housing. The project won some awards. I guess you could say Daryl and I were quite competitive. We were both young stars.
So tell us about how the Plumbers and Gasfitters Union Building happened?
The process was one through friends. Peter Redlich of Holding Redlich lawyers asked the only architect he knew who to use and he recommended me, so that's how it came about. It was very much a committee project for the Plumbers and Gasfitters Employees' Union, which was tricky because unions can be quite adamant about their position in society. The real power in that union was George Crawford, and there was no mystery about where he sat in politics. His father had built many Tudor buildings around Toorak so it was quite a job to convince him that concrete (as a building material) was the way to go.
You were pretty sick of bricks after buildings 300 houses?
Of course, but materials—and skills for that matter—available in building at that time were very narrow. Merchant Builders had been very innovative: we made new colours of bricks, manufactured door handles and tap designs. We changed window configurations; people were willing to attempt new things.
There was a real visionary aspect to this building, wasn't there? Can you tell us a bit more about that.
There was, and we really had to get involved with technology to make it happen. We brought in an engineer, and the builders found it very difficult to come to terms with (building with) concrete (in that way). It wasn't just a vertical extension of a base plan, it was actually a manipulation of the whole content of the building. It might most often be analysed in terms of its visual character but internally it was entirely clear space without the interruption of services and staircases. They were all put to one side so it was available for total adaption. That's its virtue in that it can be changed at any time.
Talk to us a bit more about your choice of concrete. It was a bit of an experiment for you, right?
It was an opportunity to express and explore a new material. I had sufficient ego, I wanted to try it and get some credibility for it. It was an important challenge to produce something that hadn't been done before and didn't follow some regime or design.
You enjoyed working with it?
I did. It's an extraordinary material because while it indicates that there's a solidness in the substance of the building which is impenetrable, on the other hand the nature of concrete lends itself to plasticity, adaption and flexibility. If one thinks, as all architects do, beyond the satisfaction of the needs and aspirations of a client and goes into that zone where the architect wants to see their work as an art form, an expression of themselves, that is not just symbolic but aesthetically stimulating—well concrete allowed me to do that.
How was it received at the time?
Boyd wrote about it; he wrote about it well. But he did make the point of, well, why wasn't it built out of metal given it was a building for plumbers and gas fitters? That got a lot of laughs. But architecture, the way I see it at least, is a personification of your own character and personality measured against doing what you have to do to meet the needs of your client. There is a way of achieving both but it's always a hot path to tread.