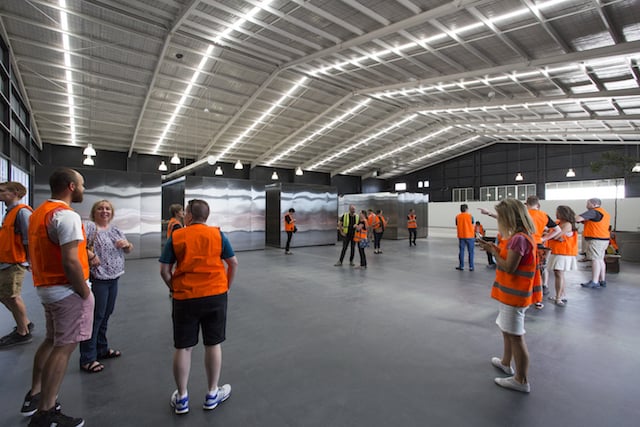 A look back at Open State
Posted Wed 12th Apr 2017 | efront
Open State, Melbourne Design Week 2017
The inaugural Open State program was held from 17–26 March as part of Melbourne Design Week produced by Open House Melbourne in partnership with the National Gallery of Victoria. The Melbourne Design Week program was a celebration of the business and practice of design, its social impact and contribution to making Melbourne the most liveable city in the world.
The 2017 theme for Melbourne Design Week was Design Values. Aligned with this theme, the Open State program attempted to explore Design in all its varied dimensions and particularly, how it enriches the economy, culture and society of Victoria. Through 35 tours by 11 different hosts, Open State invited audiences to sites throughout the city and beyond that reveal and celebrate a network of leading Victorian design innovators including commissioners of design, designers, design studios, design researchers, design educators, and manufacturers.
The 2017 tour program highlights included:
–Modscape: builders of custom, sustainable modular prefabricated residential homes and commercial properties, invited audiences into their Brooklyn manufacturing facility.
-The only Virtual Reality tour on the program, visitors were invited to explore new technologies used by Citipower/Powercor, one of the largest distributors of electricity in Victoria.
-Debbie Ryan from Macbride Charles Ryan hosted tours through the Victorian Comprehensive Cancer Centre located in Parkville (Melbourne's medical research hub), and shared a first-hand account of how the project unfolded.
-Peter Mallett from Six Degrees and Seb Chan, Chief Experience Officer for ACMI, were the charming hosts for the ACMI X tour – a groundbreaking collaborative creative hub.
-Tours of one of Victoria's leading steel furniture manufacturers Planex, in Hallam, allowed visitors to see robotics and automation in action.
–Bombardier opened their world-class industrial design and engineering facility in Dandenong, and invited audiences to see the design and manufacturing process of two of the most prominent transportation projects in Australia; the Melbourne E-Class Tram and the V/Locity Victorian Regional Trains.
-A first-hand view into the complex process of design, prototyping and manufacturing at the Tait factories in Thornbury.
-Local historian Dale Campisi lead visitors around Melbourne Central's hidden nooks, rarely-seen vantage points, secret rooftops and the famous Shot Tower and Kurokawa's Glass Cone.
-A behind the scenes tour of one of Melbourne's newest retail precincts, Emporium, that is both a celebration of the city's heritage and contemporary built form.
-Attendees were treated to a construction site tour of the Australian Islamic Centre, a comprehensive facility with Worship, Educational and Recreational spaces designed by Pritzker Prize-winning architect Glenn Murcutt (set to open in late 2017).
–Medibank invited audience members to explore Health Based Working at Medibank Headquarters – designed to consider the psychological, nutritional and physical well-being being of all staff.
We'd like to send our warmest thanks to everyone involved in making Melbourne Design Week's first Open State such a success!
Image credit: Tobias Titz, 2017