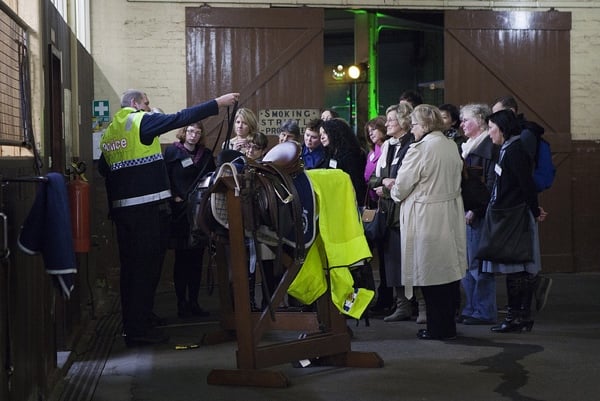 An interview with Lachlan Holding, Acting Senior Sergeant, Victoria Police Mounted Branch
Posted Mon 13th Jul 2015 | efront
Tell us a bit about the significance of the Dodds Street site.
The Victoria Police Mounted Branch has been operating out of this site for over 100 years. Originally, the entire block was owned and operated by Victoria Police. The site housed the police depot, a police hospital, a football oval, workshops, storerooms and all sorts of stuff. This building is the last piece of that.
What happens here?
We provide support services to the rest of Victoria Police. Our responsibilities include public order management, patrols in high risk community locations, search and rescue duties, and a limited amount of ceremonial duties.
If I came to the Mounted Police Branch during the week, what would I see?
Today you'd see two horses training in our indoor riding arena and two more heading out to do a patrol of the city. Later on we'll have more horses going out on patrol for Safe Streets, which involves patrols around the city's licensed premises on a Friday night.
Lots of people comment on your Facebook posts, saying they remember visiting the site when they were a school kid. They talk of their favourite horse and the sergeant who rode it. The sergeant would tell them what the horse had been up to, what he ate. Do you still have that much contact with the public?
We still get lots of requests from people wanting to come and have a tour and pat the horses. That's why it's been so important to participate in Open House Melbourne, to give people a look behind the scenes. It's very important to give the community we serve an opportunity to see what we do.
Does opening your doors give people a greater respect for what you do?
I think it does. They see how much work goes into getting a police person on the back of a horse and out on patrol each day. There's the grooming, making sure the horse looks good, tending to the stables and the horse's feed and welfare. Warming up the horse to make sure they're fit for duty and making sure they're not injured. Tacking up the horse with saddles and bridles. Gearing up the member who's going to ride the horse; they have to wear a certain amount of safety equipment and high visibility clothing. Then they're ready to head out.
Do you look for a special kind of horse to do this kind of work? They have to be 16.2 hands or taller, right?
Yes, they also have to have the right personality: alert and inquisitive but also able to handle large crowds of loud people and not startle easily. A lot of training goes into both the horse and the rider. Each horse undergoes three months of intensive training before its first patrol, then its training is continuous.
In over 100 years of history, there must be some great stories of legendary horses.
Our most famous horse was Gendarme. He was the first drum horse in 1969, trained by Sergeant Alex Tassell, and he inspired two best-selling children's books: Gendarme the Police Horse and Gendarme at Work. During his heyday, he even posed with governors and premiers for their Christmas cards.
Does the city have a different feel about it when you see it from the back of a horse?
We're highly visible when we're out on patrol, and we often get approached by members of the public who say "It's great to see you guys and thanks for keeping us safe".
The University of Melbourne will take over the site in the next six months. Is there a sense of sadness about leaving the Dodds Street address?
Of course, there's so much history here. It's a shame to lose iconic buildings and the location. But the Mounted Branch will continue on doing what we do, just from a different location.
The 2015 Printed Program features a series of five interviews with people and organisations who we think are enriching the city and making good design an important part of Melbourne's future. A big thank you to our Editor, Rohan Trollope from Big Words, and Journalist, Liza Power.