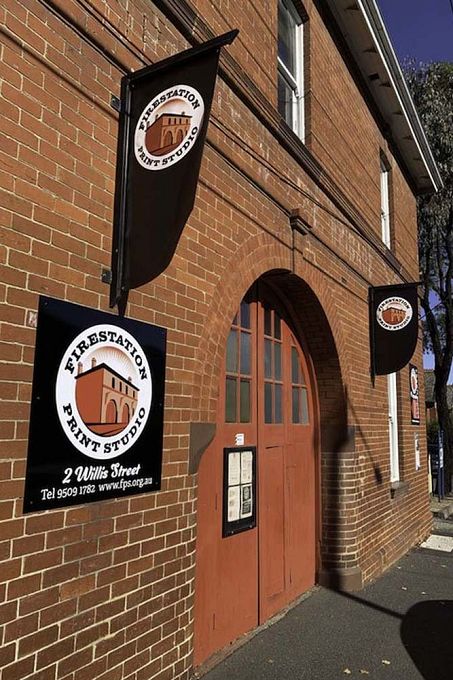 Oakden & Ballantyne 1906
Description
Serving the community for the better part of a century (1906-1988), the Malvern Fire Station is now home to Melbourne's only 24-hour community print studio.

The building is located in what is now a heritage precinct. When facing demolition in 1989, supporters rallied the then-Malvern City Council to save it and the building was repurposed into an arts facility. It rapidly became a centre for printmaking and since 2001 has been known as the Firestation Print Studio. It comprises an exhibition gallery, a workshop with three etching presses, and another workshop with several relief and letter presses, along with several artists' studios upstairs. It is a unique facility supporting the creative life of Stonnington and beyond.
What's On
Visitors will be greeted by a Firestation member and OHM volunteer who will give a brief introduction to our event. They will then be welcome to fully explore the Firestation, including the gallery space and its current exhibition; the main studio, where artists will showcase demonstrations of printmaking techniques including etching, linocut, collagraph and monoprint; and the backroom, where they will have the chance to participate in letterpress printing, gelli plate printing and other hand printing techniques.

Resident artists will also have their studios open for a peak behind the creative scenes. Studio artists and members will be available over the weekend to answer any questions regarding the artistic development in printmaking, from the inception and execution of artwork in the print workshop to its presentation and display in our gallery.

Visitors will have the opportunity to buy unique pieces of artwork and take part in a daily raffle and win one of a wonderful array of prizes.
Children's Activities
Children will be able to take part in simple printmaking techniques, such as gelli plate and letterpress printing, and create unique pieces of art to take home. They will also be able to see how traditional printmaking produces stunning results in the hands of our team of volunteer printmakers.
Images: (1) Firestation Print Studio - front view. Photo: Elizabeth McDowell.; (2) Firestation Print Studio - main studio. Photo: Elizabeth McDowell
Important Details
Time & Date
Saturday 29 + Sunday 30 July
Open access 11am-4pm
If coming by public transport, the No.6 tram stops at the junction of High Street and Glenferrie Road, Malvern. We are a short walk along Glenferrie Road (in the opposite direction of Town Hall). Look out for the parking sign, and take the first turn on the right. You will see the Open House Melbourne flyers outside our beautiful Firestation.
ACCESSIBILITY
Partially wheelchair accessible, Accessible bathroom, Accessible parking nearby, Sensory friendly
AGE REQUIREMENTS
All Ages
Location
Firestation Print Studio, 2 Willis Street, Armadale 3143