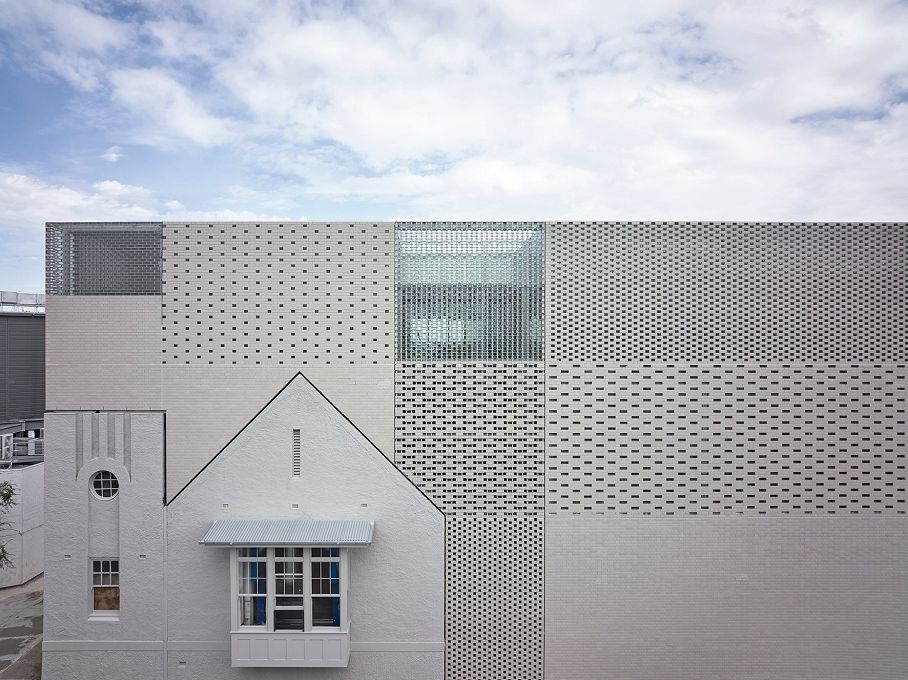 Kerstin Thompson Architects (KTA) 2022
Description
Encompassing the existing heritage building on the south-eastern corner, the new Melbourne Holocaust Museum is conceived in stark contrast to the bunker-like forms of many Holocaust museums around the world.

KTA's design incorporates clay and glass bricks on the façade providing a strong connection to the street and the public realm while the interior spaces are infused with natural light and connection to views of the expansive sky and bay.

The new five-storey building combines museum, research, education and staff offices and amenities linked by a beautifully detailed circulation core. Enjoy a rare 'first' experience and insight into this world-class museum as part of Open House Melbourne Weekend.
What's On
Join KTA Associate Principal Claire Humphreys in conversation with Melbourne Holocaust Museum CEO Jayne Josem for this very special tour of the newly completed spaces of the Melbourne Holocaust Museum.
This is a rare opportunity to experience the building prior to its public opening.

*Please note: the museum exhibition spaces are still under construction and will not be part of this tour.
Images: (1) Melbourne Holocaust Museum facade. Image: Kerstin Thompson Architects. (2) Glass bricks in the museum facade. Image: Kerstin Thompson Architects. (3) Museum skylight. Image: McCorkell Construction.
Important Details
Time & Date
Sunday 30 July
Tours run 11.30am + 1.30pm
Running for 60 minutes in groups of 30
Bookings required
The museum is less than 500m from Elsternwick Station, the 67 tram, and 246, 606 and 625 busses. Limited parking is available in the surrounding streets. We recommend leaving adequate time to find a park, or parking in the Elsternwick Station carpark, accessible via Horne Street. 
Sorry, this event is booked out.
ACCESSIBILITY
Fully wheelchair accessible, Accessible parking nearby, Accessible bathroom
AGE REQUIREMENTS
12 years and above