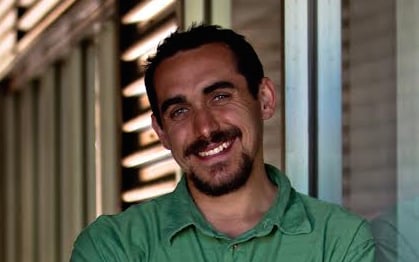 Interview with Rueben Berg, Director IADV
Posted Mon 13th Jul 2015 | efront
Tell us a bit about IADV.
We're a not-for-profit organization focused on raising awareness and advocating for Aboriginal architecture, design and place. Our slogan is "strengthening culture and design in the built environment". Our approach is about using culture to make design better and conversely using design to strengthen, celebrate and reinforce culture.
Does the term "indigenous architecture" refer to the work of indigenous architects, to buildings designed for indigenous communities, or buildings/ structures for everyone that are shaped by indigenous values?
It means all of those things. But first of all it's about trying to make sure that design in the built environment can better connect to the place where it is. Often times when architects and developers are working on a new site they perform a site analysis, but that analysis often only goes back 50 years. From an indigenous perspective, there can be 40,000 years of history to draw on for inspiration. So we're encouraging architects to think about this history not just for projects for Aboriginal people but broader projects as well.
You recently held a symposium at the MCG, the aim of which was to start a conversation around the question: Could Caring for Country principles be applied to Melbourne to recognize, celebrate and acknowledge Aboriginal cultures, and also contribute to a more sustainable city? Tell us about this idea.
Caring for country is a key concept in the Aboriginal community; it's about how we look after places and live sustainably. While there's been renewed interest in sustainability recently, we want to remind people it's not a new topic – Aboriginal people have practiced it for thousands of years. Celebrating these practices is a way of reinforcing cultural connections between people. So when you collect rubbish or recycle cans, you're actually caring for country. It's about people connecting (with indigenous culture) so that it's not an "other" and making it part of their daily thinking. It's also about drawing on traditional practices to enhance our approach to sustainability today.
An architecture firm approaches IADV about a development site. They want to know about its history. What happens next?
In Victoria, information around national heritage is protected and there's legislation in place to protect it. The Heritage Act also records information about places. We can act as cultural heritage advisors to guide people to that information and research. But often the best place to find out about stories is through the traditional owners, so we can help make connections between designers and local groups.
Tell us about the projects you've been involved in so far?
Most recently we've been working as advisors on the relocation of the Koorie Heritage Trust to Federation Square. We've also been working with developers, traditional owners, the National Trust and local council in Sunbury to preserve Sunbury Earth Rings, an amazing cultural heritage site. The work has involved thinking about how to protect the rings but also use development as a chance to celebrate them as well.
Take us back to this idea of indigenous architecture. Is it an approach that influences the kinds of building materials used, the layout of a building, the inclusion of indigenous art?
It can mean two things: a style of architectural approach that portrays a sense of Aboriginality, and that might influence the materials and form a building employs. But it can also refer to the values those buildings embody. Often times the way you might shape and place things can be a reflection of the values of that community. You can also use landscape around a building to reveal stories from that place on the site.
How can indigenous values be incorporated into design?
The Deakin Institute of Koorie Education in Geelong is a good example. In many educational institutions there might be a staff area over one side and a student area on the other. But this learning environment was about everyone being on the same level, about sharing knowledge, so instead of there being separate areas for staff and students, they're all intermingled and linked by a shared kitchen space where everyone comes to meet and discuss what they've been learning. That's a key indigenous value.
The 2015 Printed Program features a series of five interviews with people and organisations who we think are enriching the city and making good design an important part of Melbourne's future. A big thank you to our Editor, Rohan Trollope from Big Words, and Journalist, Liza Power.