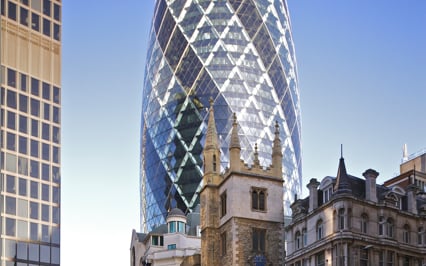 Interview with Victoria Thornton, OBE, Honfriba/Founding Director, Open-City London.
Posted Mon 13th Jul 2015 | efront
What inspired you to start Open House London?
I knew about many incredible buildings, especially contemporary buildings, that existed in London and indeed around the world that were part of a secret world which only architects really knew. So I wanted to let non-professionals see them too, and have a better understanding of the design process. Also, there was very much the view that old was 'historical' and contemporary was 'bad' in London, and I wanted to challenge this idea. In essence the intention was to make the city 'accessible to all' — although at that time everyone thought I was mad!
Did you anticipate its success in London, or its spread around the world?
I had no idea at the beginning that it would capture the imagination of so many people, but its expansion was due in part to the many young architects who had volunteered. When returning home, they wanted to take back the concept with them to their own city, with New York being the first of many. It is just incredible to see how such a simple idea has ignited so much interest by everyone about their city and its architecture.
Why do you think Open House has been so popular?
Architecture is around all of us and is part of our society's wellbeing, yet it is something we never learn about in school as part of the education curriculum. Open House allows the residents of their city to get out onto the streets and look at the many buildings that they pass each day without knowing what it looks like inside, and to learn who designed it and how it adds to the city as a whole.
You have visited each Open House city in its inaugural year. What have been your highlights?
One might think the buildings, but actually it is the energy of those that make it happen. These include the originators, the event's many hundreds of volunteers, the individuals and organisations who generously open their doors, and the thousands of people who attend during the weekend.
Having visited so many buildings around the world, do you have just one favourite?
This is always a difficult question because you interact with a building in many different ways. I can look at a building from the point of view of its aesthetic only, but my response to it can also be affected by how it is presented to me. The energy, effort and emotion that go into the design of someone's own home always shines through. I am also personally interested in how eco-friendly buildings can be designed, or how older buildings can be transformed for the 21st century.
What do you see as the future for Open House around the world?
I do believe it has the power to change how politicians and citizens view their own city, and how the built environment is an important aspect when developing its future. Open House can be part of that journey as a catalyst for change.
Image courtesy of Open House London.
The 2015 Printed Program features a series of five interviews with people and organisations who we think are enriching the city and making good design an important part of Melbourne's future. A big thank you to our Editor, Rohan Trollope from Big Words, and Journalist, Liza Power.