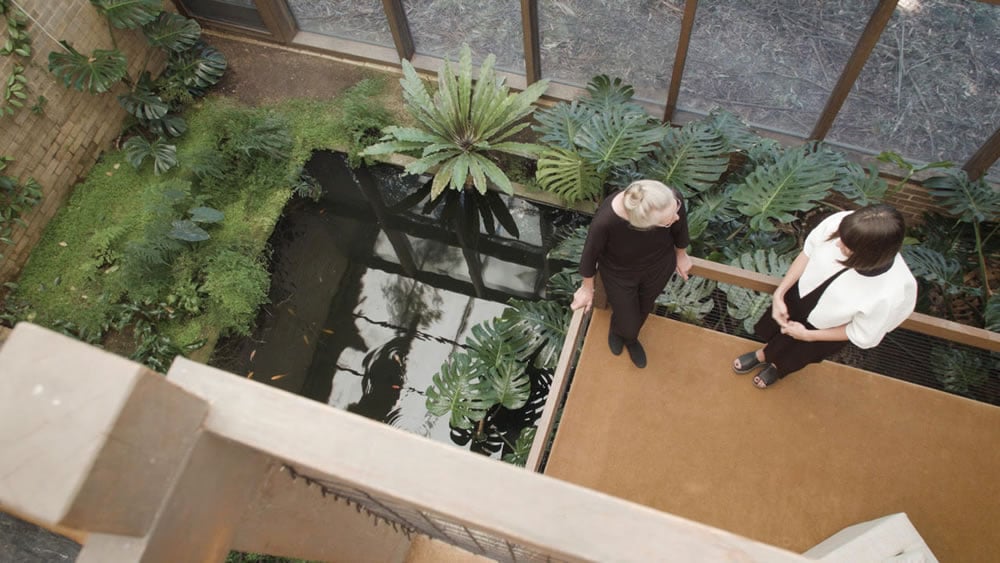 Modern Melbourne
Posted Tue 1st Aug 2017 | efront
Modern Melbourne is a series of filmed interviews and rich archival material that documents the extraordinary lives and careers of some of our most important architects and designers including Peter McIntyre, Mary Featherston, Daryl Jackson and Graeme Gunn.
Melbourne's modernist architects and designers are moving into the later stages of their careers. Their influence on the city is strong and the public appreciation of their early work is growing – they have made an indelible mark on Melbourne. Much of their mid-century modernist work and latter projects are now represented on the Victorian Heritage Register.
All of the Modern Melbourne subjects enjoyed a working relationship and a friendship with Robin Boyd, the influential architect who championed the international modernist movement in Melbourne.
After completing his education at RMIT and the University of Melbourne, Peter McIntyre went on to design and build one of Melbourne's most iconic modernist houses, River House, before designing the Melbourne Olympic Swimming pool in 1952 for the 1956 Olympics. Both projects illustrated his reputation as Australia's experimental modernist architect.
Mary Featherston trained in Interior Design at RMIT. In 1965 she formed a life and professional partnership with Grant Featherston and over a period of thirty years, the partnership completed many iconic projects across interiors, furniture, and exhibitions. Mary is also recognised for her pioneering work in children's learning environments.
Daryl Jackson established his practice with Evan Walker in 1965. His early work in brutalism cemented his reputation as one of Australia's leading architects, and his considerable teaching, writing, and lecturing has had a significant influence on the course of Australia's architectural identity.
Architect, urban designer and a former dean of architecture at RMIT University, Graeme Gunn's early career was shaped by his time at Grounds, Romberg and Boyd. The significant Brutalist Plumbers and Gasfitters Union building is one of his most celebrated projects, and he was pivotal in the success of Merchant Builders.
Modern Melbourne is made possible by the generous support of the interview subjects, the Heritage Council of Victoria and the Victorian Government through Creative Victoria.