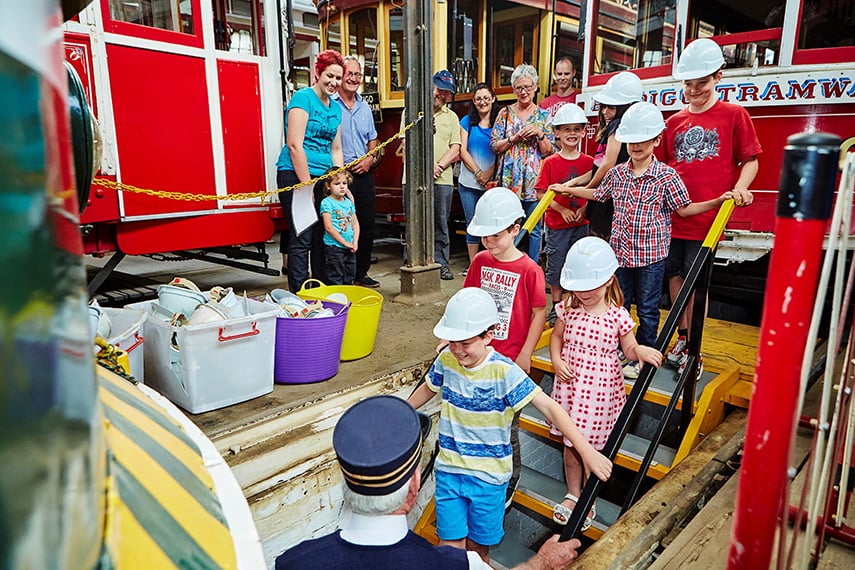 Open Kids Bendigo
Posted Thu 17th Oct 2019 | Helen Sweatman
Open House Bendigo's biggest ever family program is on next Weekend, Saturday 26 and Sunday 27 July. With over 7 buildings hosting interactive activities just for kids, take the family out for a whole weekend of activities accross Bendigo and Eaglehawk.
Highlights of the Open Kids Bendigo program:
The Bendigo Tramways Depot and Workshop
 1 Tramways Ave, Bendigo VIC 3550
26+27 October 10am-4.30pm
Kids Activity: Discover the colourful history of Bendigo's iconic tram fleet and see the techniques involved in restoring a tram to its former glory.
Photo: Richard Bell
2 Peg Leg Road, Eaglehawk 3556
Sunday 28 October, 10am – 4pm
Bring the kids along to the Eaglehawk precinct and stop in for kids activities at each building.
Eaglehawk Mechanics Institute: Join in the architectural play activities at the Eaglehawk Library housed in the historic Eaglehawk Mechanics institute, create simple and more complex structures with lego kits and other activities. Around the corner, you can pop into one of Victorias longest-running Billards and Snooker clubs.
Star Cinema, Eaglehawk Town Hall: Mayor for a Moment! Children are welcome to sit in the Mayoral chair for photographs.
Log Lock-Up: Are you game to experience the sensation of being 'locked in the logs'? Children are presented with a Sent to the Logs card after visiting the lock-up.
The Eaglehawk Court: Children are able to stand in the witness box or sit at the Magistrates bench for photo opportunities.
Bendigo Library, 251-259 Hargreaves St Bendigo
Saturday 26 October 10am-3pm
To celebrate Bendigo Open House Bendigo library will be hosting architectural play activities. Create simple and more complex structures with our plank and lego kits and post a photo to our Facebook wall. Inspiration for creative minds!
Photo Credit: Courtesy of City of Greater Bendigo
121 View Street, Bendigo Victoria 3550, Bendigo VIC
Saturday 26 October 12pm-5pm & Sunday 27 October 12pm-4pm
Kids Activity: Try your hand at loom weaving, hula-hoop weaving or raffia knotting or contribute a woven leaf to the Emerge Hub's tree. As part of the Interwoven exhibition – a cross-cultural & trans-generational weaving collaboration.
Photo Credit: Ian Hill