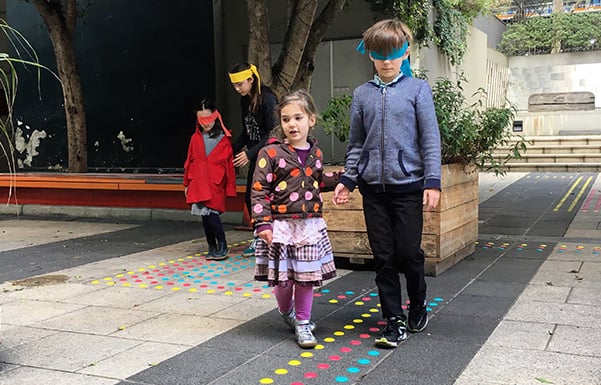 OPEN KIDS
Posted Fri 26th Jul 2019 | Isabella Radevski
Open House Melbourne's biggest ever family program is on this Weekend, Saturday 27 and Sunday 28 July. With over 30 activities just for kids, our special Open Kids program spans Melbourne city, Boroondara, Hobsons Bay, inner north, north, inner south and even further afield.
Highlights of the Open Kids program:
400 Flinders St, Melbourne VIC 3000
22 July – 11 August
Walk a mile in someone else's shoes. Suitable for all ages, Urban Tactility, in the grounds of the Immigration Museum, is a playful and exploratory installation connecting participants to the ways people with blindness or low vision experience our cities. The Immigration Museum is also running a kids activity 'Mini Museums' where kids create their own mini museum to take home.
Urban Tactility – Photo: Tania Davidge
30 Yarra St, Hawthorn 3122
Sunday 28 July, 10am – 4pm
A magnificent 1890s heritage building on the Yarra, Tay Greggan exemplifies the arts and crafts period of the early twentieth century. Paying homage to this era, Tay Greggan will be running a session for children focused on robotic art. Younger children will be able to control Shperos to create their own piece of robot art, while older children will have the chance to use codes, including randomisation and loops, to produce a variety of effects. Smocks and water-based paints will be provided, but art-friendly clothes recommended.
Photo: courtesy of Tay Greggan
Flinders Walk, Melbourne 3000
Saturday 27 & Sunday 28 July 10am – 4pm
Usually a space for young people aged 13-25, SIGNAL is open to everyone wanting to get creative across the Weekend. SIGNAL's program over the Weekend includes collage, zine and badge making, or you can try your hand at fabric flower jewellery or clay modeling.
Photo: Courtesy City of Melbourne
Birrarung Marr, Behind Federation Square, Melbourne 3000
Saturday 27 & Sunday 28 July, 10am – 4pm
Ping Pong WoW! is back again this year at ArtPlay. Presented by the Ball Room Artists, families are encouraged to bring children aged 3-8 along to discover the endless joy of a sea of ping-pong balls. Ping Pong WoW! has been designed to captivate both children and adults alike and is suitable for all abilities.
Photo: Courtesy of ArtPlay, City of Melbourne
360 Burwood Road, Hawthorn 3122
Saturday 27 & Sunday 28 July, 11.30am, 1pm and 3.30pm
Bring the kids along to the Building Buddies art workshop with James Price. Using collage techniques, James will lead participants through a discussion about the buildings of Hawthorn and the types of people who may have used them throughout history. Workshop times are at the same time as the building tours, so you are welcome to leave children (6 years old and above) at the workshop while you tour the Arts Centre.
Pick up a special Open House activity book which features kids activities for each of the Boroondara buildings, available from any of the Boroondara sites.
More Open Kids program activities include:
City of Melbourne:
Children's entertainers provide light relief for anyone waiting in line.
Join in an educational sustainability activity, in conjunction with Transfer, an art exhibition by Bianca Loiacono.
Journey through the exhibitions and discover the Old Treasury Building with the Kids' Fun Trail, bringing the museum to life.
Learn and discover more about science in the interactive activity area: meet techo, the humanoid robot; try some simple coding; build DNA models; and learn microscopy.
City of Boroondara:
Fun for young and old. See the main distribution frame, watch calls travelling through a switching network, explore a range of equipment, meet the original talking clock or hear your name in Morse code.
City of Hobsons Bay:
Grab an iPad and investigate the Pumping Station on a digital information trail.
Inner North:
Walk-ins for classes at 11am, 12:15pm, 2pm and 3:15pm welcome, but to ensure your place book at dancehouse.com.au. All ages and abilities welcome.
North:
Children will be given a booklet, 'My IMA Journal', to complete while touring, and upon completion will receive a gift.
Inner South:
A self-directed children's 'treasure hunt' will be available highlighting some of the building's fine features.
A free drop-in and drop-out kids weaving activity will be available throughout the day
Games to help explore the church and the site, picture drawing, and a guest visitor.
Drop-in activities from 11am – 4pm, including play with clay and wildflower printing.
Participate in colouring-in and craft activities, and view high performance athletes training.
Drop-in to a free cyanotype workshop where children will be able to create and print an image to take home.
Further Afield:
Enjoy an Archi-KIDS design-a-building activity and kids trail.
A special storytime will be held in the children's area from 11am.
Come and see wild kangaroos and retired champion racehorses.