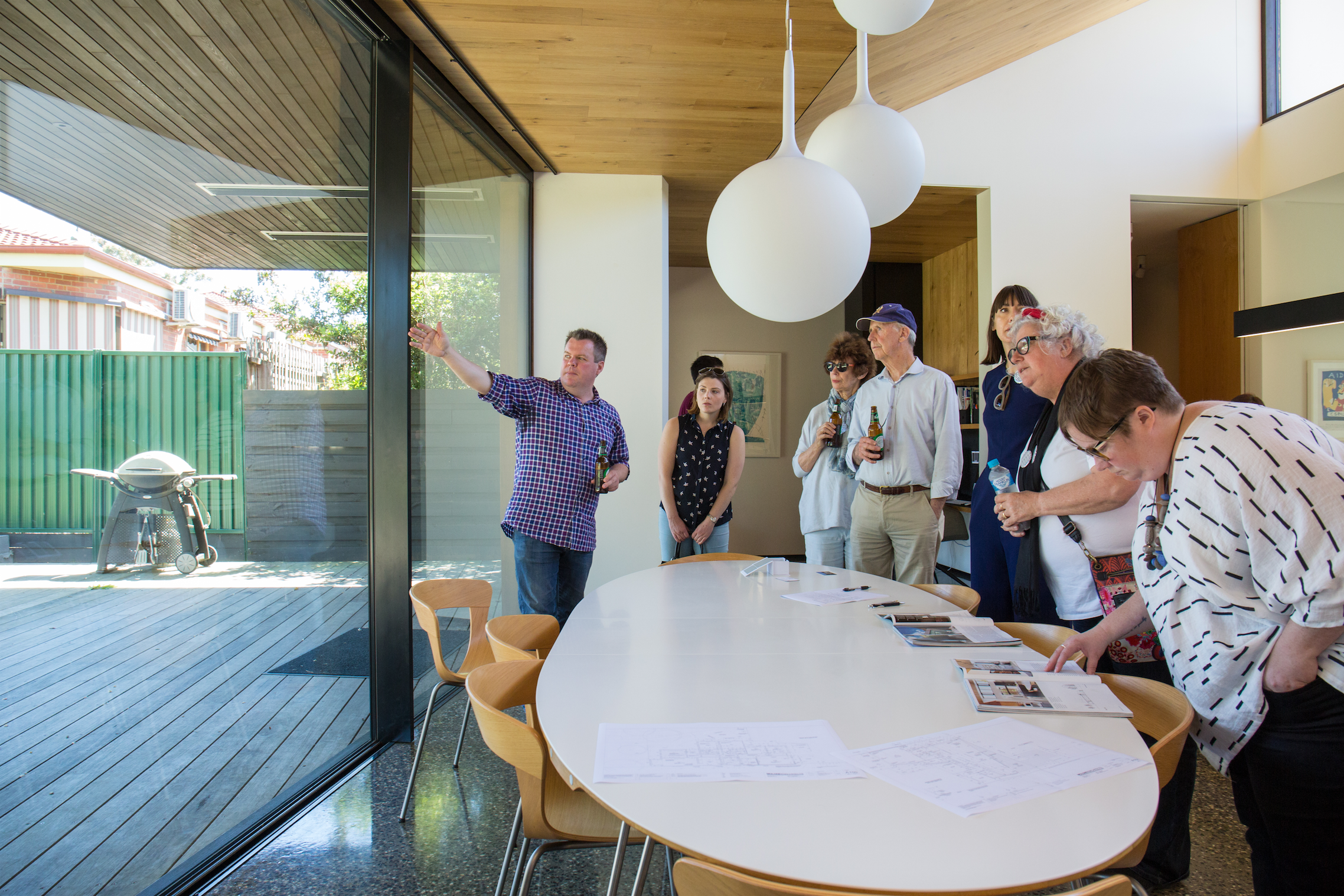 Open Your Building in 2018
Posted Fri 24th Nov 2017 | efront
Expressions of Interest for 2018 Open House Melbourne Now Open
We're pleased to invite Expressions of Interest for buildings in the 2018 Open House Melbourne July Weekend. To be held on the 28 + 29 July 2018, next year's program is looking to deliver an even higher level of engagement across the CBD and suburbs, helping the public to uncover contemporary and heritage architectural gems.
How to Apply
To be considered, your building must have architectural, historical, sustainable, design, and/or cultural interest or merit. After the success of our 2017 wider-footprint program (including areas as far as Sunbury, Bundoora, Templestowe, Maribyrnong, Newport, Brighton, and Dandenong) we encourage EOIs across all Melbourne's suburbs.
If you would like to recommend your building for the 2018 Melbourne Weekend, please complete this short online form before the end of February 2018.
The Open House Melbourne Building Council personally reviews EOIs on a monthly basis. Applicants will be notified following this review, and asked to provide further information if selected for the program.
Why enter your building?
Open House Melbourne is the largest and longest-running Open House program in Australia, with more than 85,000 visits recorded across 200 buildings in 2017. The program is a great opportunity for building owners, managers, custodians, and architects to reach a broad cross-section of the community, accessing completely new audiences.
Most buildings participate to promote their activities to a new and different audience, and engage with the local community. They participate to encourage the public to become advocates of good design and to value their building and its present use and activities.
Of the reasons people attend, over 80% participate to stay informed and learn more about the city's architecture and to celebrate and improve their cultural awareness of the city. Almost half of our visitors reported that they participate to stay informed about factors that influence city planning. Specifically, 90% agreed that Open House provides a unique and valuable opportunity to directly engage with architecture in the city.
Promotion
Open House Melbourne is able to promote your building to a wide audience, with an established database of over 30,000 email subscribers, 200,000+ annual website visits, and an audience of over 42,000 people across social media. Buildings are also included, with individual listings, in printed programs and the Open House Melbourne website.
Logistics
The Open House Melbourne team will take care of the bulk of event logistics—including bookings, ticketing, flags and signage—meaning building custodians can focus on helping the public learn more about their building.
Why is Open House Free?
The core of the Open House concept lies in the direct experience of architecture and design, accessible and free to all.
A free event… is accessible and upholds everyone's right to the city
A free event… attracts a large and diverse audience
A free event… encourages people to explore and engage with architecture and design in an informal way
What building custodians say about OHM
"Being part of Open House definitely reached people that we wouldn't have if we had undertaken the open day through our own council channels."
– Fitzroy Town Hall, City of Yarra – 2017 Precinct Partner

"Most of our visitors were locals; many who had not visited the homestead before and many also who learned of the homestead for the first time through the Open House Melbourne program."
– Woodlands Historic Homestead
We really enjoyed being part of Open house Melbourne 2017. It's the interaction with the people and the hard work of the volunteers that makes this such a unique and wonderful weekend. Putting a smile on people's faces never gets tiring.
– Residential Home Owner, 2017
I think the benefit of making Architecture accessible to the wider public and educating people about Design has far-reaching implications for the profession. That's why I'm such a big supporter of Open House Melbourne. The more the public understand and experience good Design the better it is for all of us.
– BKK Architects, 2017
Key dates and timeline can be found here.