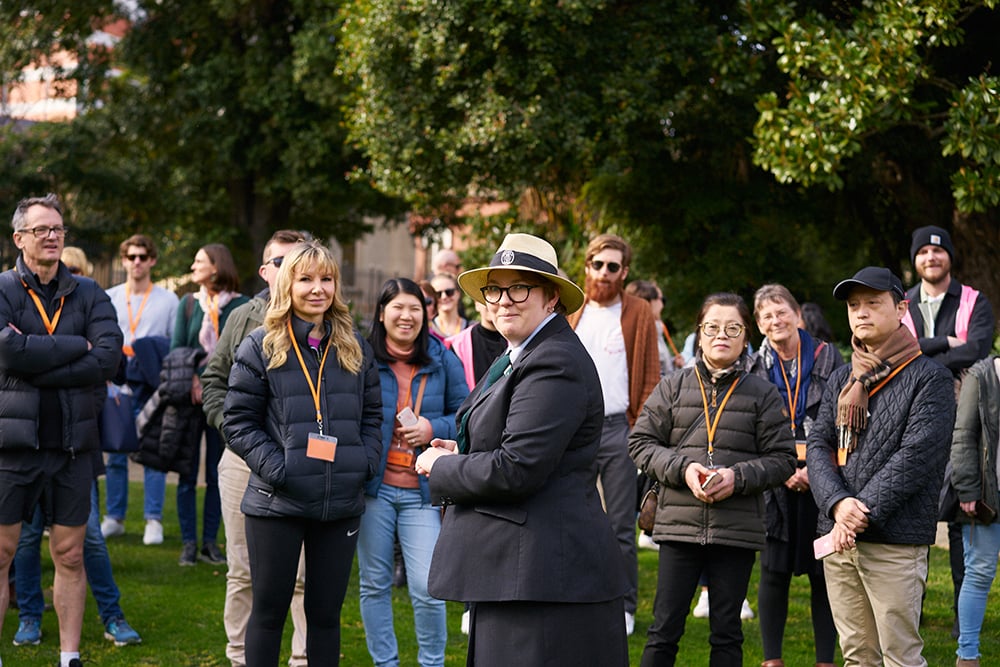 Thanks to our amazing community
Posted Fri 13th Dec 2019 | Helen Sweatman
AS WE CLOSE OUT THE DECADE, THE OPEN HOUSE MELBOURNE TEAM WISHES TO THANK YOU, OUR AMAZING COMMUNITY, FOR YOUR SUPPORT THROUGHOUT 2019
Another bumper year for Open House! Over the course of 2019 we delivered three major public programs, ran 53 tours, facilitated 17 public discussions, supported 4 exhibitions, produced 4 workshops, hosted 3 screenings and opened 227 buildings in Melbourne and regional Victoria. With a total 2019 attendance of 113,485 we continue to build a groundswell of interest in critical issues about our built environment.
We deep-dived into the role design can play in reframing our relationship with water, with a special focus on urban waterways for Melbourne Design Week. Waterfront took people out of auditoriums and away from power–points and invited them to explore by boat, by bike and by foot.
The July program, now a firm fixture of the Open House calendar, continued to surprise and inspire with over 45 talks, tours, exhibitions and screenings. An important highlight for this year has been the focus on access and inclusion. Keynote project was Urban Tactility, a site-specific public installation of tactile indicators in the courtyard of the Immigration Museum. The installation was activated by visitors during the museum's opening hours, through sensory walking tours, a targeted schools program and public conversations about multi-sensory design and rights to the city.
The Melbourne Weekend visitors included a dramatic increase of first-time participants; 53% of the in-person survey respondents were attending Open House for the first time. Growth of our audience outside of the CBD continued to increase, with over 35,000 visits outside of the City of Melbourne across metropolitan Melbourne.
We went back to Bendigo in October, with the second edition of the Open House Bendigo Weekend. An annual event cycle has allowed Open House to put down roots in Bendigo and significantly grow the size and geographical footprint of the event. Along with an increased number of buildings in Bendigo, neighbouring areas including Eaglehawk and Castlemaine opened their doors for the first time in 2019.
Out now, the latest season of The Naked Architect released together with the ARBV and ArchiTeam. Season 3 returns with four new episodes, four new projects and four new interviews with homeowners and their architects. Your one-stop-shop for all questions about engaging a residential architect.
Did you hear we also podcast now?! 2019 marked the beginning of This is Public – a bi-monthly podcast series asking big questions about the future of our city, with a special focus on built and natural environments and the people who shape them. Stay tuned for the next episode.
Coming up next… Melbourne Design Week! Due to the success and popularity of the Waterfront program in 2019, we are thrilled to reveal our water theme will continue next year. Waterfront 2020 brings an expanded and refined program, exploring the flow-on effects of water-based urban design decisions and offering a reservoir of ideas for reimagining the river and our relationship to our urban waterways. Looking at 2020 theme 'How Can Design Shape Life?' we are currently busy crafting a program of boat tours, walks, talks and special events to explore the cultural, ecological and recreational value of our rivers, bays and oceans. Save the date,  Melbourne Design Week runs 12 – 22 March 2020.
To the Open House family – our Partners and Sponsors, the Management Committee, the Building and Volunteer Councils, our wonderful and enormous group of dedicated Volunteers, our generous Members, Building Hosts, and our Program Partners – thank you! Your passion, talent, generosity and ever-present smiles have made this year possible and a delight.
Wishing you a happy and restful festive season.
Victoria Bennett
Business and Program Manager
Open House Melbourne