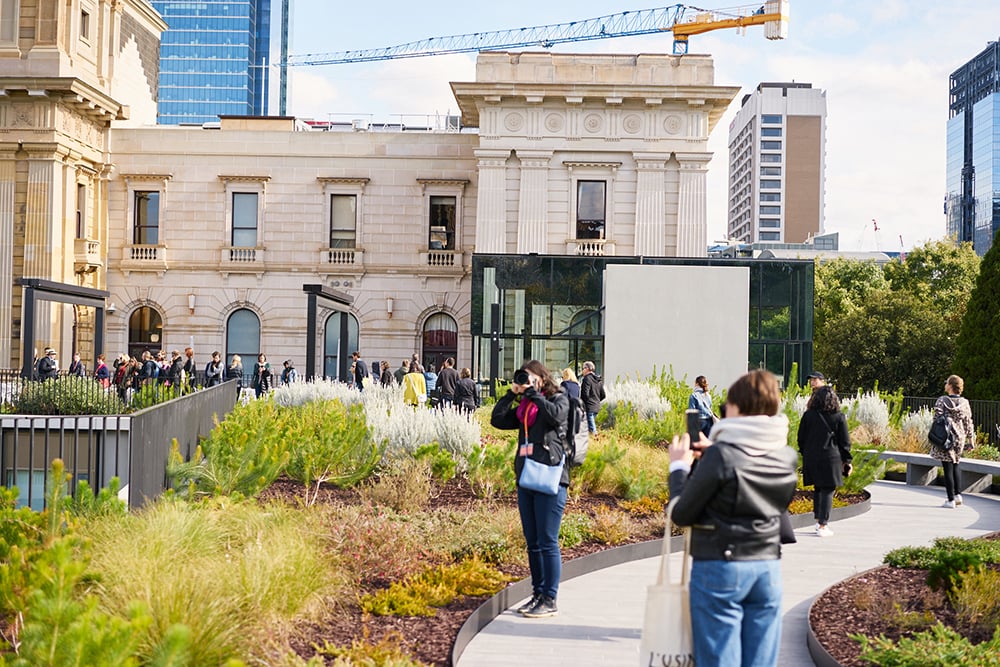 The Weekend in Review
Posted Fri 23rd Aug 2019 | Isabella Radevski
Thank you to everyone who explored the city at this year's Open House Melbourne Weekend! With the sun shining and new precincts to explore, the Weekend and associated July program was a great success.
With an expanded footprint across Melbourne, including Boroondara, Maribyrnong, Hobsons Bay and beyond, nearly 95,000 visitors were recorded across 200 buildings, 1200 guided tours and 45 special events.
A big highlight for this year has been the focus on access and inclusion, which has been amplified by the partnership with Cushman & Wakefield. Programming included:
• Urban Tactility reaching a wide range of people living with blindness and low vision and encouraging awareness and empathy in people living without disability
• 3 public Urban Tactility Talks with Auslan interpretation
• 1 Sensory City Tour with Auslan interpretation
• 1 x Parliament House Tour with Auslan interpretation
• 1 x Public Records Office tour hosted by a deaf guide
• 2 x special tours of Seeing Eye Dogs Victoria Mobility Training Centre
• Temporary ramp infrastructure installed at Old Treasury by Cushman & Wakefield to improve access across the Weekend
• Rapid Interim Housing Prototype display at Melbourne Museum – a housing prototype for newly disabled young people
We look forward to expanding on this important program in future years.
Other highlights included the University of Melbourne Southbank Campus, which stole the show with almost 8500 visits across the weekend to The Stables and Martyn Myer Arena, Buxton Contemporary and The Ian Potter Southbank Centre. And across the road, ABC Southbank experienced 5,000 visits.
New to the program, Werribee Mansion recorded 3500 visitors making up around half of all visits to our new precinct partner – the City of Boroondara.
Among the 200 buildings open to the public, over 70 were in the City of Melbourne. Recently refurbished, The Capitol, proved popular, with maximum capacity reached in the afternoon and many more visitors keen to see inside. We also hosted the Speaker Series and the Super Tight Lecture in The Capitol to sold out crowds – it's lovely to be programming this incredible space once again in partnership with RMIT University.
We also launched our next Modern Melbourne interview with Dione McIntyre, in partnership with the Heritage Council of Victoria and the University of Melbourne's BE––150 Program. We will have links to the new interview and series of short films in the coming weeks.
Over 700 volunteers, 2,300 building managers, staff and volunteers, 45 partners and supporters, and 100 members supported us in making the 2019 program possible. From all of us at Open House Melbourne, thank you!
We're really looking forward to seeing you all again on 26 + 27 October 2019 for the second Open House Bendigo! Save the date and stay tuned for details in the coming weeks.
Visit our Facebook page for an album of image highlights from the 2019 Weekend.
And remember, there are still events and exhibitions running in August, including Australia Modern, Bauhaus Now! and Super Tight.
Photography: Nick Bebbington