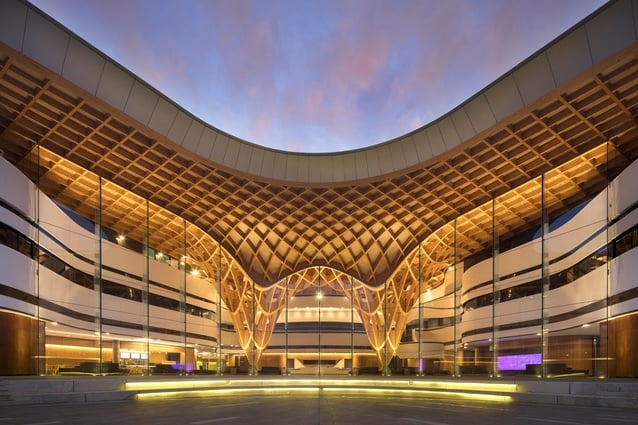 The Weekend is Coming
Posted Wed 16th May 2018 | Helen Sweatman
The 11th annual Open House Melbourne Weekend will be the largest program ever presented. A total of 224 buildings will open their doors to the public this year on Saturday 28 + Sunday 29 July.
There are 87 new buildings in the program, as well as 23 residential properties, and 84 buildings in the City of Melbourne. There will also be a full month of special events in July including film screenings at ACMI, public talks, the annual Heritage Address, the Living Cities Forum and a major exhibition titled The Australian Ugliness.
There will be two ticket releases for the ever-popular pre-booked tours this year. First-release bookings open on Friday 13 July at 8.30am, and the second release will open on Friday 20 July at 8.30am via openhousemelbourne.org, with a small booking fee. Of the residential properties in this year's program, 21 will be pre-booked – mark this date in your diaries as pre-booked tours are expected to be in high demand based on their past popularity.
The full program will be revealed in late June, so stay tuned for further updates. In the meantime, here is a sneak peek of some of the tours we're excited to present in 2018:

Australia 108
Australia 108, located on Melbourne's Southbank, will become the 'tallest building to roof' in the Southern Hemisphere at 319 metres tall. Designed by one of Melbourne's most renowned architects, Fender Katsalidis, Australia 108 is a highly sculptural residential tower which will be unlike any other in Australia. Its slender form will be highlighted by a golden starburst expression which then morphs into a curvaceous profile against the sky. The Weekend will offer a chance for the public to explore behind the scenes of this unique project. Guided tours of the part-construction site will be conducted by Fender Katsalidis – including common areas, basement facilities, and typical apartment types.
Austrialia 108 – Image: Secret Studio, Floodslicer
Bunjil Place
Bunjil Place is the City of Casey's new $125 million cultural and entertainment precinct for Melbourne's South East. Designed by multi-award winning architectural studio Francis-Jones Morehen Thorp (FJMT), the overarching vision for the precinct is 'to create an inviting central heart for the community that celebrates participation, belonging and pride'. The centre includes a major library, gallery, multipurpose studio space, 800-seat theatre, civic offices and outdoor plaza. The entire precinct will come to life for The Weekend – including a children's trail, films in the plaza and design talks. VIP access to back-of-house areas will be available to the public who book in a guided tour.
Bunjil Place – Photograph: John Gollings

The Learning and Teaching Building at Monash Clayton
One of the many guided tours that does not require pre-booking this year is The Learning and Teaching Building at Monash Clayton by John Wardle Architects. It's a multi-faculty, gateway learning facility with more than 60 innovative learning and teaching spaces that deliver a variety of study settings to meet 21st century student demands. The building demonstrates a shift away from the modernist stand-alone tower, instead incorporating a horizontal field of spaces within a broad, low-rise building.
The Learning and Teaching Building  – Photograph: Rhiannon Slatter