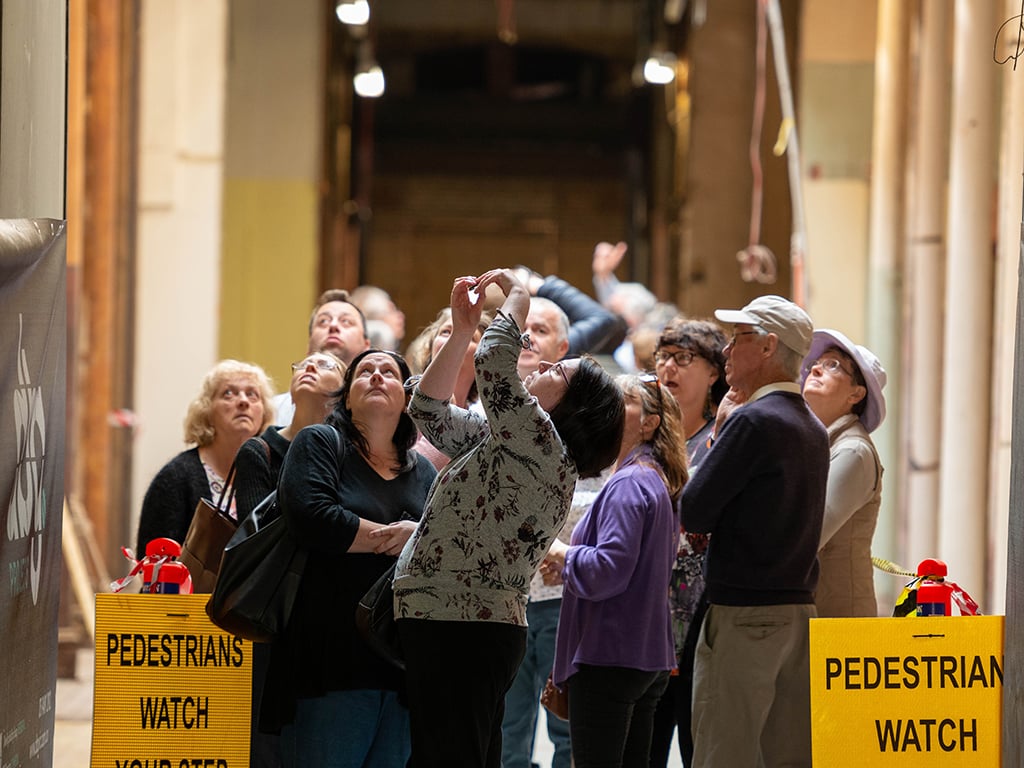 Top Tips for Open House Bendigo
Posted Tue 1st Oct 2019 | Helen Sweatman
A WEEKEND AWAY
Boasting 27 buildings – plus walking tours, film screenings and a program of talks – Open House Bendigo will, for the first time, extend beyond central Bendigo to include Eaglehawk and a satellite program in Castlemaine. Make the most of this diverse program and stay for the Weekend. Accommodation can be booked via Bendigo Tourism.
OPEN ENTRY
When planning your Open House Bendigo Weekend, we encourage you to focus on 'open entry' sites. These are the locations that do not require pre-booking. You should expect to see a maximum of 5 buildings each day of the Weekend (slightly more if they're closer together, less if they're further apart).
PRE-BOOKED TOURS – BOOKINGS ESSENTIAL
Nearly all buildings are self-guided or guided, however, some buildings have pre-booked tours due to their limited capacity. Pre-booked tours require a small $5 commitment fee to reserve your place. Bookings open Monday 14 October, 8.30am.
There are no other booking options available, so please be prepared. If you need assistance using online systems, please have a family member or friend there with you. These tours are always in high demand, please check details via our website and sign up to our newsletter before you book, as we don't want you to be disappointed. Read more about on our Pre-booking Tips page.
ACCESSIBILITY
Open House is committed to making our events accessible. However, in our efforts to make available city infrastructure and buildings of all eras and all stages of development, not all of our program is fully accessible or appropriate for all ages.
LIMITED MOBILITY ACCESS
This indicates that all or some of the building is not wheelchair accessible or suitable for people with limited mobility.
PRAM ACCESSIBLE
These buildings can accommodate parents with children in prams. Please check with volunteers or building staff for special instructions.
AGE LIMITS
Some buildings have age limits. Find the 'access' heading under each building entry for cut-off ages. Please email us if you have any questions or suggestions about access – email info@ohm.org.au.
SOCIAL MEDIA
Across the Weekend we'll be using Facebook, Twitter and Instagram to post queue updates and navigational tips, and to respond to your questions. You can also use the hashtags to post your own updates, share photos, and connect with us:
#OpenHouseBendigo
Facebook: @openhousemelbourne
Twitter: @openhousemelb
Instagram: @openhousemelb
GETTING AROUND
Find transport recommendations in the transport section of each building listing. We list the closest public transport, either tram, bus or train stop, no more than 10 minutes walking distance.
GOGET
Visiting from Melbourne? With a number of vehicles parked around the city, why not book a GoGet to get you there, you can book for as little as an hour and fuel is included. GoGet have provided an exclusive offer for attendees including a free sign up to GoFrequent (valued at $55) and 15% discount across Open House Bendigo, using the code OHM15.
GoGet is proud to support Open House Bendigo as the new transport partner.
BENDIGO TRAMWAYS
Get around town in true Bendigo style aboard one of Bendigo's rare and unique heritage trams. Present this Open House Bendigo program (or a pdf copy on your smart device) when buying your ticket and receive a 30% off* individual one-day tickets.
Adults: $12.50 (Normally $18)
Children: $7.50 (Normally $11)
Upgrade to a two-day ticket for just $2.00
For more details visit: bendigotramways.com
*Does not apply to concession and family tickets or package deals.