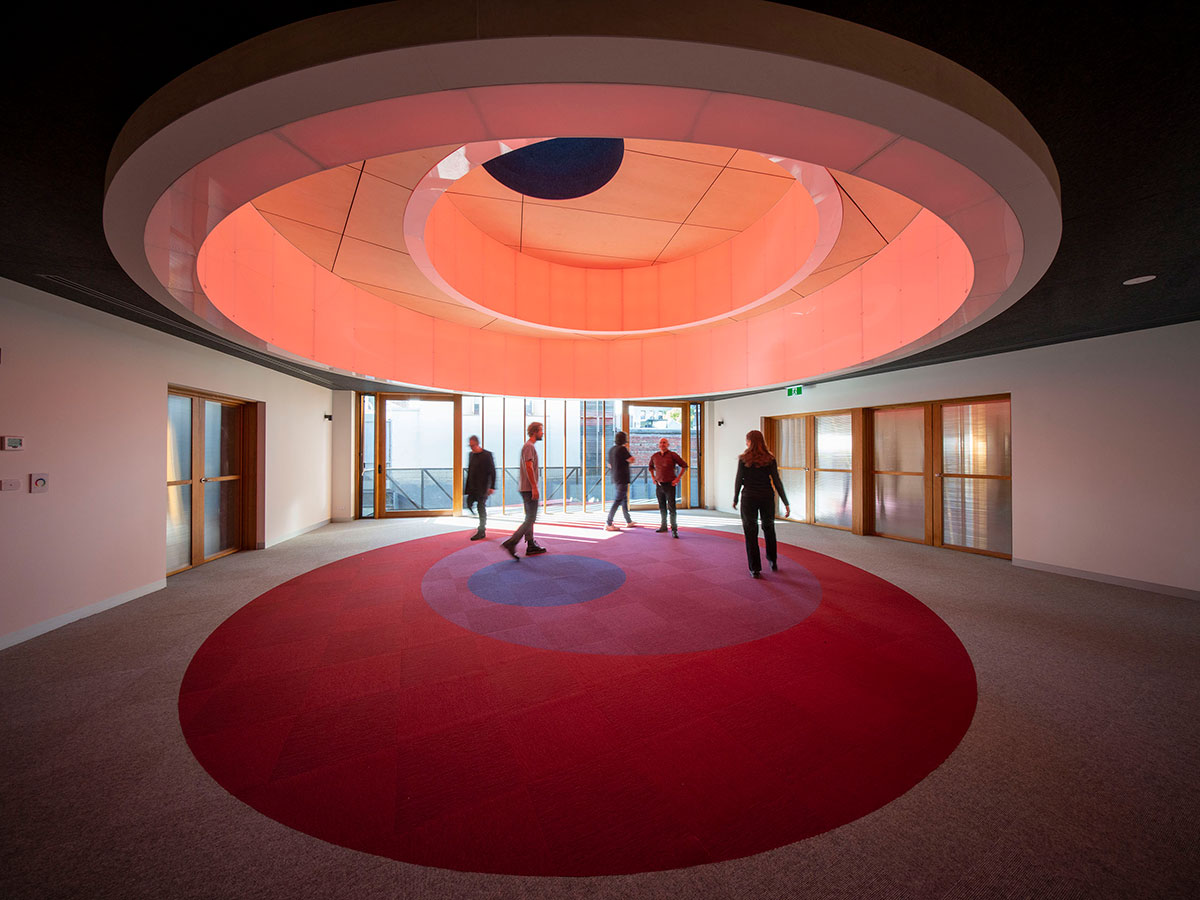 First glance at our 2022 July Weekend
Posted Fri 10th Jun 2022 | Isabella Radevski
We can't yet unveil our entire program, which is set to be announced Thursday 30 June, but it's shaping up so well that we couldn't resist revealing a few special highlights early. Read on for a sneak peek and be sure to sign up to our newsletter before Thursday 30 June to be the first to receive all the insights, tips and news of our full program announcement.* 
Add these events to your calendar:
Modern Melbourne premiere & panel discussion
Our Modern Melbourne short film series makes a grand return featuring Peter Elliott, one of our most celebrated architects and winner of the Australian Institute of Architects Gold Medal in 2017 – the highest honour for an Australian architect. Premiering at ACMI on Thursday 28 July to launch the Weekend festival, it will be the first exclusive screening of this episode, followed by a panel discussion with special guests. This new episode delves into Peter Elliott Architecture and Urban Design's continued exploration of what Peter describes as a form of 'urban acupuncture' – a dexterous, responsive and topographic approach to the relationship between architecture and the city. 
Take Hold of the Clouds
Take Hold of the Clouds is a curated exhibition in partnership with Monash University of responsive creative works that a redistributed across seven of the city's most iconic buildings and urban spaces. Contributors include Forensic Architecture at The Capitol, Cauleen Smith at the Melbourne Quakers Centre and Kent Morris at the St Kilda Foreshore Vaults. As a feature of this year's festival, it intervenes into the July program with each temporal creative work adding a new layer to how we understand these spaces in relation to the world around us. Discover the full list of curators, sites and creative practitioners here.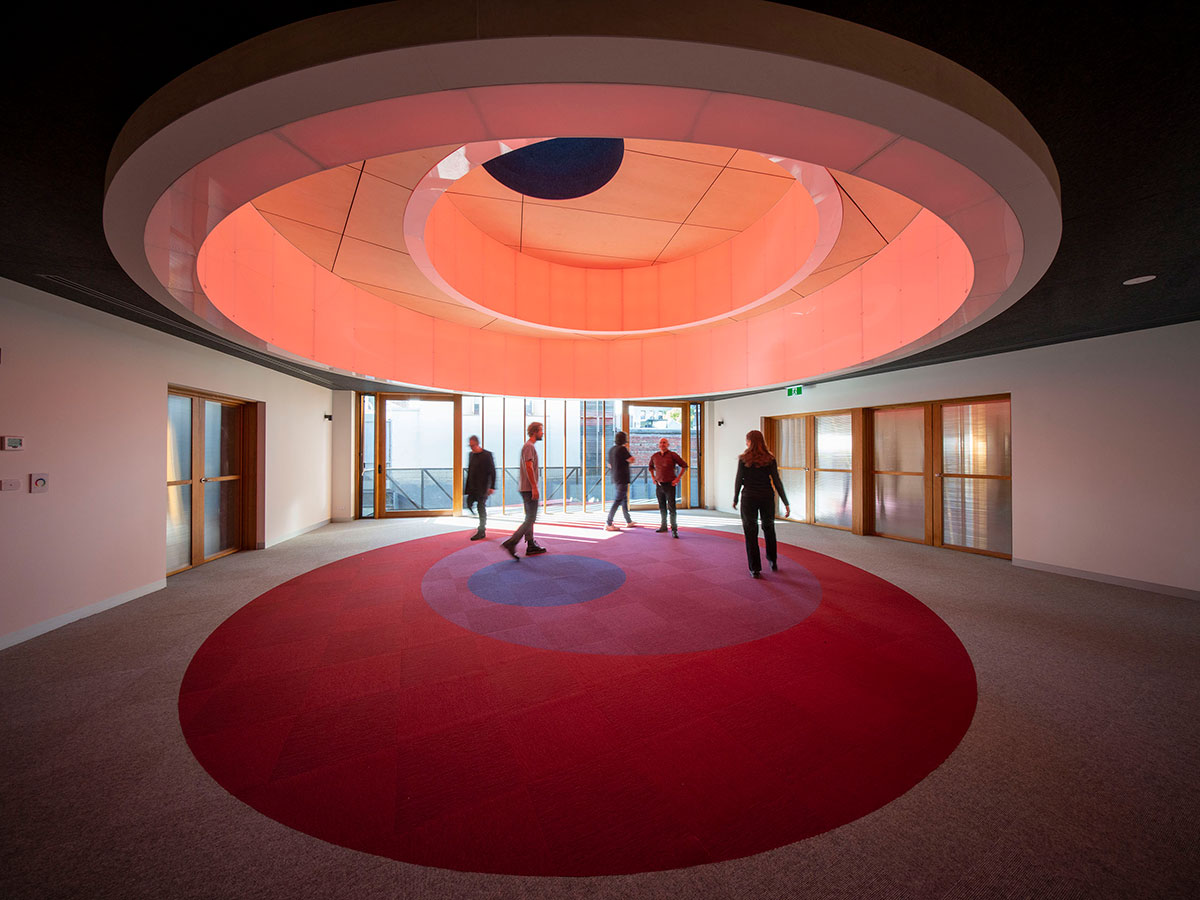 Making Home: Housing with Care
Architect and housing advocate Tania Davidge curates this series of talks unpacking the issues that influence the provision of social and affordable housing in Australia. It also addresses the importance of the delivery of housing as part of a broader infrastructure of care and looks at how architects, housing providers and government are working to make a difference. Creating homes requires more than just housing; these talks examine what services and support are required and how asks how they be integrated through design.
Guildford and Hardware Lane – an Historian's tour
The Guildford and Hardware laneways were developed initially to provide rear service access to properties, and as thoroughfares through the blocks and between streets. The intense subdivision of the 1850s gold-rush period saw many of the rear lanes evolve into distinct streets with their own frontages.
Join architecture historians Libby Blamey and Meighen Katz for a social history walking tour of the Guildford and Hardware Lane precinct and insight into the less well-known parts of Melbourne's beloved laneways, the rich social history of the area and architecturally significant buildings.
City of Melbourne Tours
Choose from three offerings presented by the City of Melbourne and designed to teach Melburnians about different aspects of public life in the city.
Get to Know The Greenline is a self-guided walking tour providing an opportunity to learn more about the site for Melbourne's Greenline Project and its plans to transform the north bank of the Yarra River Birrarung; Pocketbook of Playgrounds is a self-led tour all ages can enjoy, introducing more than 40 of the best playgrounds across the City of Melbourne through a downloadable map; and urban designers lead CBD East Walking Tour, showcasing a cross-section of City Design projects and recently built private developments that contribute to Melbourne's excellent public spaces.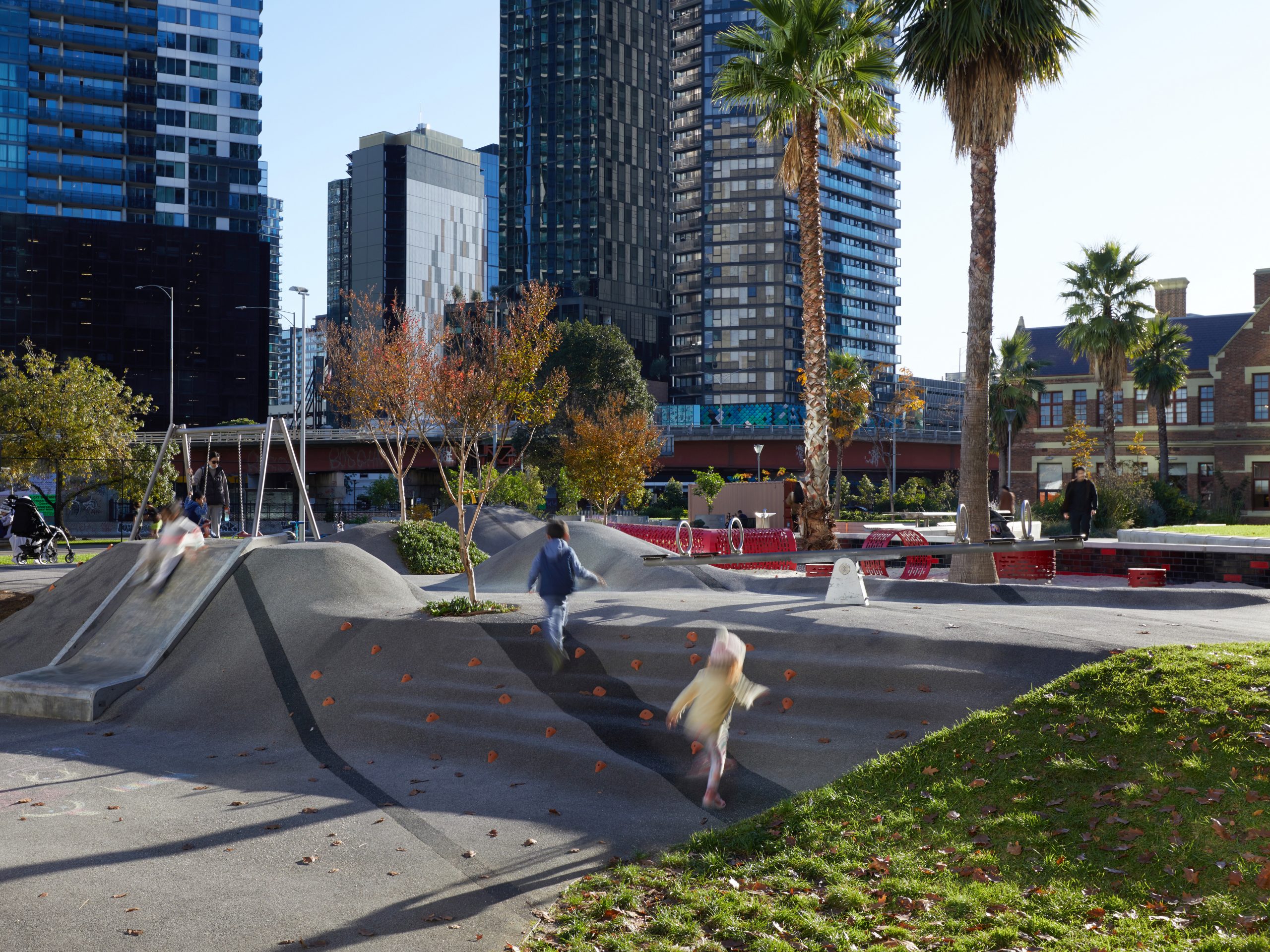 Visit these buildings:
Collingwood Yards
Principal architect Joachim Holland from Fieldwork will tour a small group around the newly opened Collingwood Yards precinct, speaking to the history, design process and outcome of the award-winning arts precinct. Following the tour resident artist Channon Goodwin of Composite will speak to the group about the experience of working and collaborating on site, and how the architecture has informed the experience and practise of the precincts' residents.
Insider tip: this is also your chance to have a sticky-beak at OHM's new offices (where the real behind-the-scenes magic happens) – we've recently moved to the Yards ourselves!
Koorie Heritage Trust
When it comes to representing Indigenous culture through the built environment, architecture and design play an important role. Lyons' work on the Koorie Heritage Trust saw its relocation from the former King Street premises into the refurbished Yarra Building at Federation Square. The project was an opportunity to show the role that architecture and design can play in facilitating collaboration and representing culture in the community, led by the Koorie Heritage Trust's consultation with Lyons. The result is a space designed through the lens of dialogue, placing Indigenous culture both literally and figuratively in the heart of Melbourne.
Our work with the Koorie Heritage Trust continues further with our ongoing collaboration on the Map of Kulin Melbourne – Sites of Indigenous Significance. This map was first developed in 2017 with the Koorie Heritage Trust, Indigenous Architecture and Design Victoria (IADV) and Open House Melbourne. We'll be including a downloadable version of the map as part of this year's program along with some printed copies available to purchase. Intended as a starting point to recognise just some of the many sites of Indigenous significance found across Kulin Melbourne, it is by no means a complete list and we look forward to contributing to future iterations of the map with the Koorie Heritage Trust.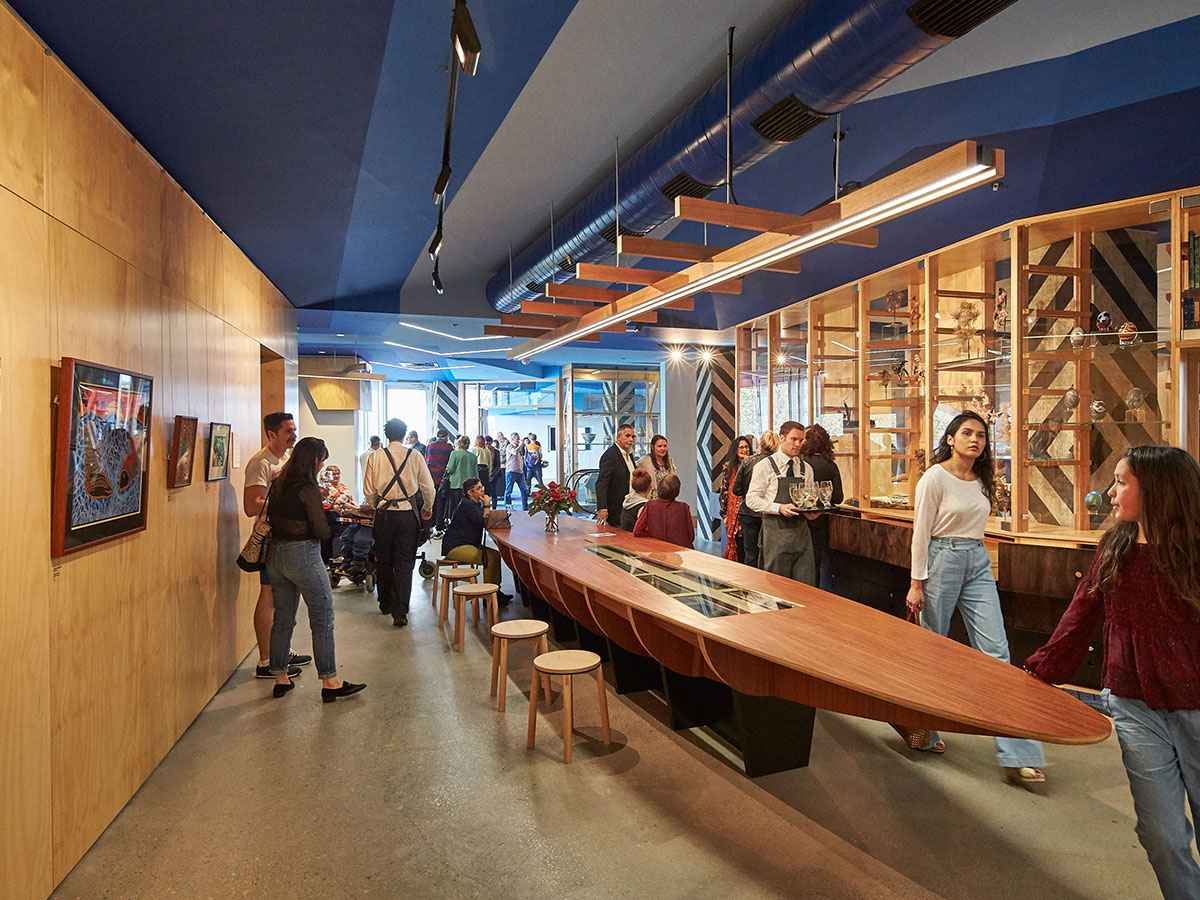 Glenroy Community Hub
The ribbon has just been cut on Australia's first passive house-certified community centre, the Glenroy Community Hub designed by DesignInc. Through its welcoming, nature-inspired environment the Hub invites its community to learn, grow, celebrate and heal. A garden experience, biophilic design principles and public activity spaces provide the framework for community connection. The considered approach to its construction strategically positions the Hub as a 'social connector', exemplifying here how good design can encourage awareness of, and interaction with the range of social services available.
Victorian Family Violence Memorial
Designed by Muir Architecture and Open Work, the recently completed Victorian Family Violence Memorial project provides a public recognition of the broad scale community impact of this issue, creates a space that recognises the experiences of those affected by it and seeks to raise awareness to the shared responsibility we have to address it. Consultation with victim-survivor groups and Victims and Survivors Advisory Committee (VSAC) as well as Traditional Owners informed the design, which is embedded with layers of symbolism that speak to the gravity and sensitivity of the impact of family violence.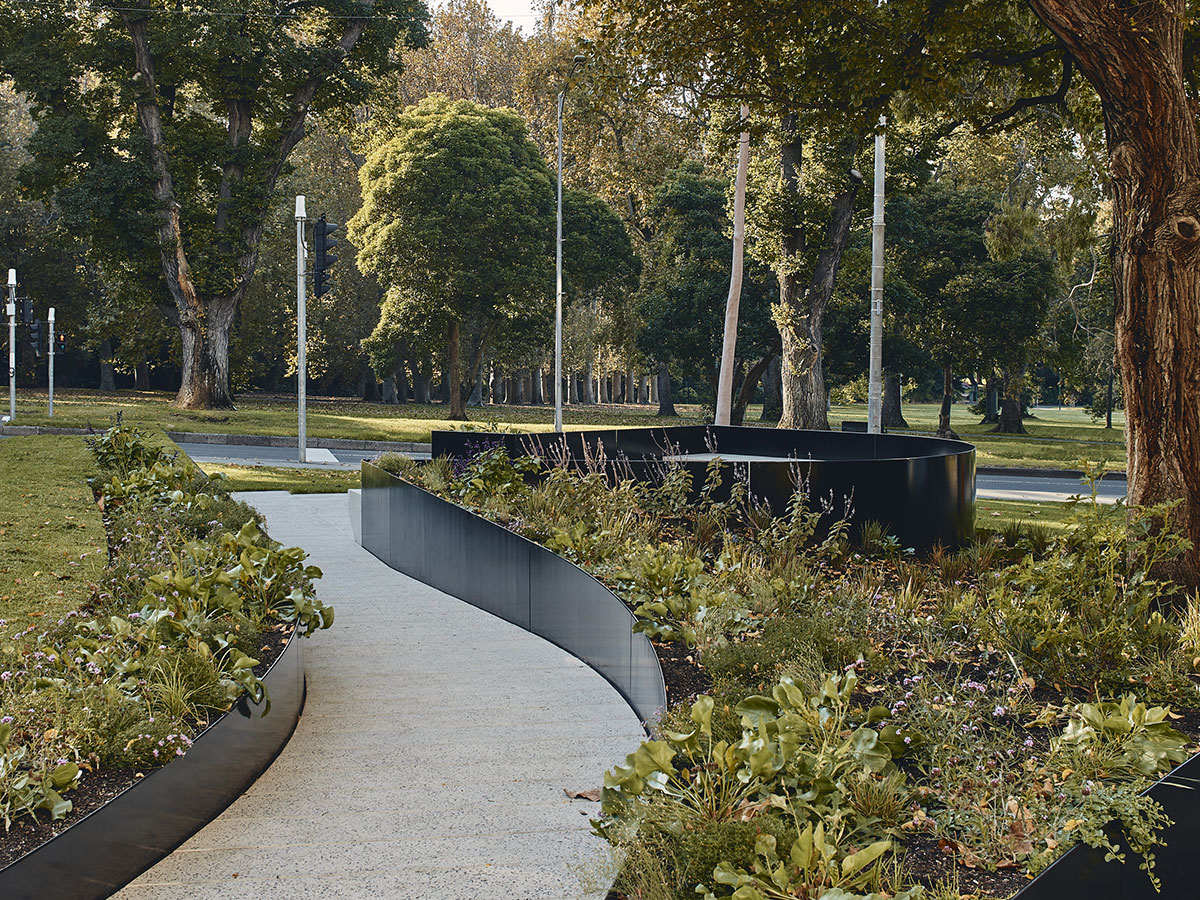 Rebuild La Mama
In 2019 a devastating fire destroyed most of this historically significant and heritage-listed building but a determined rebuild led by Meg White and Cottee Parker Architects, with heritage consultancy from GJM Heritage, saw it rise from the ashes and reopen in late 2021. In a true phoenix tale, La Mama's reincarnation has retained and reimagined unique features like the internal staircase, fireplace and trapdoor while improving accessibility and amenity across the whole site, and considering environmental impact with solar panels, a water tank and double glazing. The building now stands proud as an emblem of the creative community's resilience, passion and commitment.
Munro Precinct Community Hub – City Room
Located opposite the Queen Victoria Market, this project will house the City's largest new community hub in one of Australia's most sustainable mixed-use developments designed by Six Degrees with Bates Smart Architects. The 500-space market car park opened in July 2021, affordable housing welcomed new residents in December 2021 and the community facilities will open in 2023. For the Weekend, visitors can join architect-led tours traipsing from the car park to the new level 1 City Room, set to become the new city library. Learn about what that future fitout might look like and the civic role the building will play in shaping Melbourne life.
We're also thrilled to share the brand identity for Built/Unbuilt, developed by our incredible graphic design partner Studio Payne!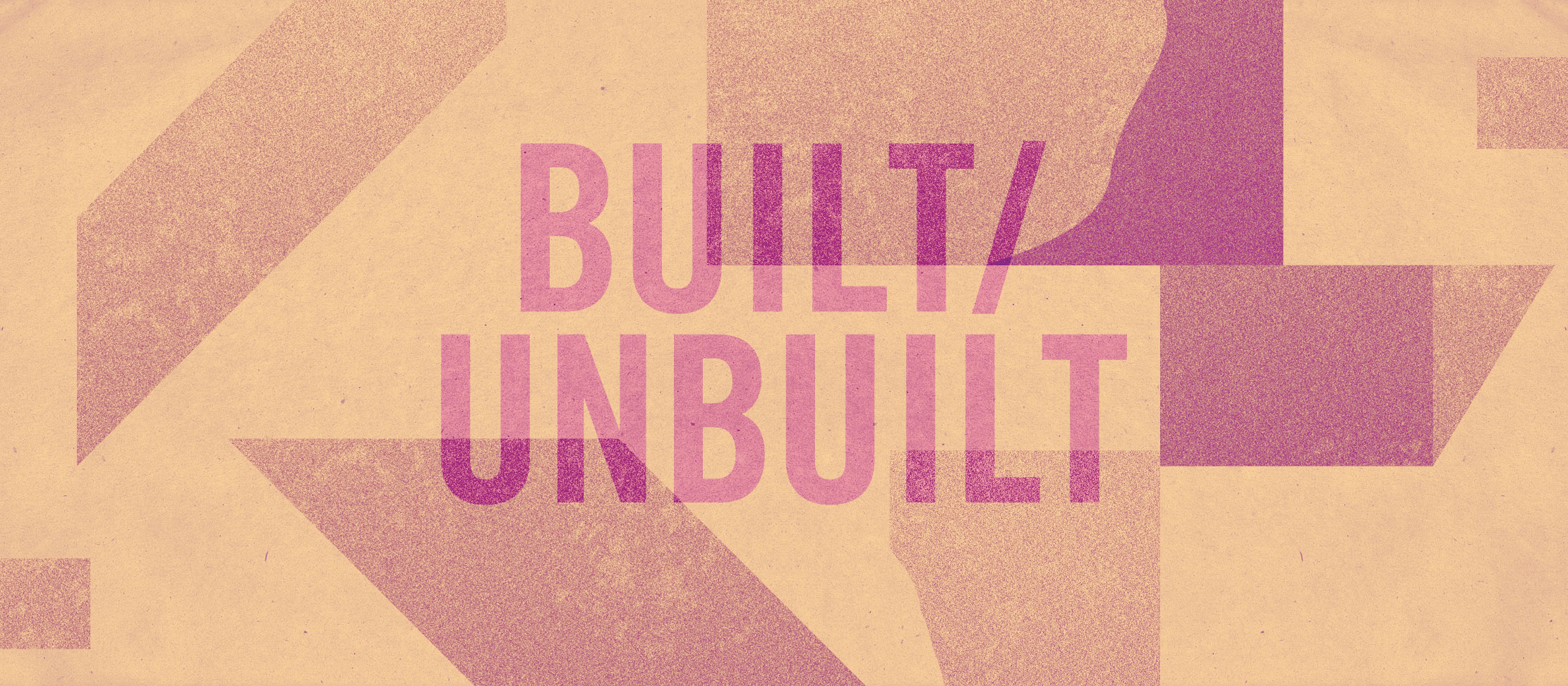 *Majority of these events and buildings, along with our broader program, will not take bookings and be first in, best dressed – though in some cases bookings will be required. Check the individual event and building listings from Thursday 30 June for full details.