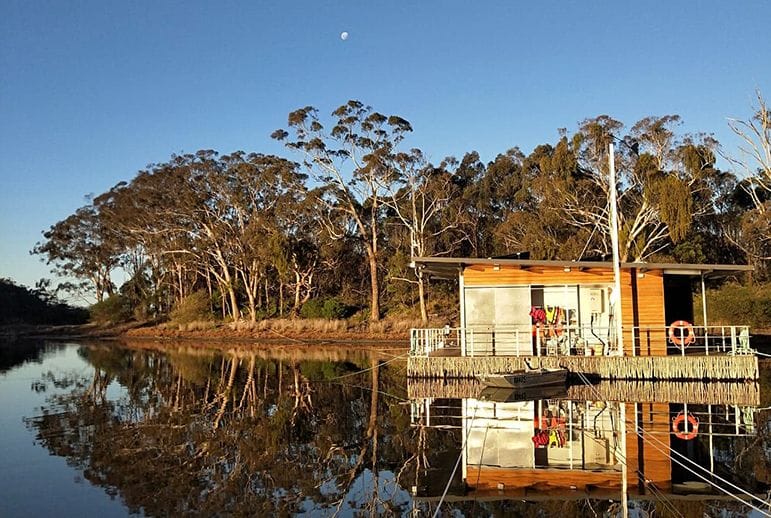 Waterfront 2021 program now live
Posted Fri 26th Feb 2021 | Helen Sweatman
The program for Waterfront 2021, part of Melbourne Design Week, is now live and ready for you to explore (and start booking!). Boasting 33 events, over 11 days Waterfront 2021 offers a diverse range of events for all to enjoy.
This year's event will take place between 26 March and 5 April, beginning in Melbourne and—for the first time ever—extending out to East Gippsland. There are kayak tours, boat tours, film screenings, culinary experiences and thought-provoking talks exploring the critical relationship between us and the creeks, rivers, bays and oceans we live with. 
Our dedicated East Gippsland Waterfront program will be presented from 30 March to 5 April. A series of events inspired by the East Gippsland Lakes will introduce previously undiscovered sites around Lakes Entrance and Lake Tyers, championing the creative entrepreneurship and design of this picturesque region. You can make the most of this diverse program and stay for Easter. Accommodation can be booked via visiteastgippsland.com.au. 
Waterfront 2021 will also include online events and content, which has the added benefit of making the program global while keeping local audiences safe and comfortable. Experiences range from learning to paint a dramatic ocean scene with Gippsland Art Gallery to taking a virtual tour of the Rethinking Regional Recovery exhibition. And kids will love exploring animal architecture with Phillip Island Nature Park
After all that our city and state has been through in 2020, we are delighted to be able to bring a splash of vibrancy and design activity back to our city and regional areas in 2021. 
Here are some of the program highlights with more to be released soon:
In Melbourne
Waterfront: The Great Birrarung Parkland Series
Our exciting launch event, this three-part program includes film screenings, a panel discussion and a boat tour. All three are focused on increasing public awareness of the river's issues, advocating for it and bringing our community together around a proposed vision for The Great Birrarung Parkland. Join Open House Melbourne, the Birrarung Council and the Wurundjeri Woi-wurrung Cultural Heritage Aboriginal Corporation, supported by Fed Square, as we champion a more ecologically balanced future Melbourne.
Breaking Down the Urchin   
In Port Phillip Bay and throughout the East Coast of Australia, invasive sea urchin species have been exploding in numbers. Now with the helping hand of climate change these beautiful yet voracious little creatures have the capacity to turn vast areas of our marine ecosystem into underwater deserts. Utilising eyes, ears and stomachs, this event prepares participants with the knowledge, skills and motivation to reclaim our sea floors. Over a two-hour period, guests will hear from NGV Triennial senior curator Ewan McEoin and designer and researcher Pirjo Haikola about Pirjo's work and research on sea urchins. You will then learn how to process and preserve sea urchin as fish sauce under the creative guidance of food researchers Long Prawn and fermentation experts Furrmien. Join us as we creatively and consciously tackle this issue through delicious foodie decisions. 
Living Shorelines 
Join us on this coastal 'wading tour' and explore the mangrove project at Altona Coastal Park. Reef Design Lab and University of Melbourne are investigating coastal defence by mass planting Victoria's native southern mangrove species inside a specially designed planter. The planters have been designed to reduce wave energy to help the small mangroves grow. As the mangroves get bigger, they can reduce wave height and accumulate sediment themselves, protecting the foreshore from erosion.
---
In East Gippsland
Opening Events and Welcome to Country with Gunaikurnai Land and Waters Aboriginal Corporation (GLaWAC)
GLaWAC represents the traditional owners from the Brataualung, Brayakaulung, Brabralung, Krauatungalung and Tatungalung family clans, who are actively protecting culture, lands and waters, and bringing strength, knowledge, skills and innovation to the region. Join us Wednesday morning, 31 March, for this opening celebration of the East Gippsland leg of Waterfront 2021. This event will include a Welcome to Country; guided tour of the GLaWAC Culture Centre, Gallery, and Library; a delicious lunch from the bush tucker canteen; and a panel discussion with Traditional Owners. We are thrilled to have GLaWAC Policy and Program Manager Lisa Hocking and water law and policy expert Erin O'Donnell as our panel guests.
FLOATing with School of UnTourists
Join School for unTourists for a kayak tour of Lake Tyers to learn more about this extraordinary body of water, the movement for 'personhood' to protect its future and the impact the devastating 2020 bush fires has had on its health. Guests will then dock their kayaks at FLOAT – a floating studio and artist residency – for a talk by local artist and curator Josephine Jakobi. We finish up the event with a meditative interactive "Kayak Orchestra" sound performance. Equipped with sonified kayaks, participants will create gentle drifting layers of tones in a minimal, improvised composition made up of the sounds of other paddlers, bird calls, the splashes of jumping fish and the wind in the reeds. 
Slipways Salon: Talks Program 
Join us for a series of design and creative-entrepreneurship discussions and workshops at the historic Slipway Sheds, Lakes Entrance. Speakers will include Mathew Bate, author of children's seaweed book "A Little Kelp from My Friends"; Chris Stanley of Splinter Society Architects; Michael Duncan, General Manager of quarterly newspaper Gippslandia; and Chris and Gabrielle Moore, the makers behind Sailors Grave Brewing.  
---
Don't forget to use our Add to Itinerary feature on Event pages to plan your Waterfront experience.
Waterfront – full program: MELBOURNE DESIGN WEEK: WATERFRONT 2021
Waterfront is proudly presented by Centre for Architecture Victoria | Open House Melbourne, in partnership with Department of Environment, Land, Water and Planning and East Gippsland Shire Council. Waterfront is part of Melbourne Design Week 2021, an initiative of the Victorian Government in collaboration with the NGV.
For further information please contact:
Open House Melbourne
info@ohm.org.au
03 8648 8612